Ford's success at 2010 Future Car Challenge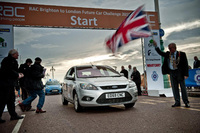 The Ford Fiesta Van ECOnetic was 'Most Economic Light Commercial Vehicle', achieving a fuel consumption of 78.6mpg, on the first RAC Future Car Challenge.
More than 60 eco-friendly vehicles completed the first RAC Brighton to London Future Car Challenge on Saturday including Ford's award-winning Fiesta Van ECOnetic, the Ford Focus ECOnetic and the Transit Connect Electric on its first public appearance in the UK. The challenge was to complete the 64-mile course using the least energy.
The Ford Fiesta Van ECOnetic was driven by Jay Nagley, founder of CleanGreenCars.co.uk and Paul Barker, Editor, WhatVan? – claiming the title for the Most Economic Light Commercial Vehicle (LCV).
Ian Giblin, light commercial vehicle product manager, Ford of Britain, said: "We are very pleased to receive this 'best-economy' award for the Fiesta Van ECOnetic. Ford are continuing to be among the UK's fuel economy leaders from cars to commercial vehicles."
Dragon's Den star, Richard Farleigh attended the event joined by well-know motoring celebrities, Nick Mason, and Quentin Willson. The challenge started at 8.00am on Madeira Drive, Brighton, and finished in Pall Mall, London. A special ceremonial event in Regent Street, with estimated crowds of 250,000 people¹, saw the 60 eco-friendly vehicles join a display of more than 100 pre-1905 motor cars preparing for the London to Brighton Veteran Car Run the next day.
The RAC Brighton to London Future Car Challenge was judged by the event's Technical Panel including: Steve Cropley, Editor-in-chief, Autocar Magazine, John Wood, Institution of Mechanical Engineers and Ben Cussons, Chairman, The Royal Automobile Club Motoring Committee.
Ben Cussons said: "This has been a magnificent first event and was easily the largest of its kind to be held on British roads. I want to thank all the drivers and entrants and the many companies who put so much effort into making it a success."
Graham Hoare, executive powertrain director, Ford of Europe, said: "This challenge was a great opportunity for Ford to showcase our latest production-ready electric powertrains and advanced internal combustion engine technology.
"We are delighted that our Transit Connect Electric, realised in a collaborative effort with Azure Dynamics Corporation, comfortably completed the challenge and we are looking forward to its production launch in 2011."
For more information about the RAC Brighton to London Future Car Challenge visit futurecarchallenge.com.