Get connected with the new Ford C-MAX and Grand C-MAX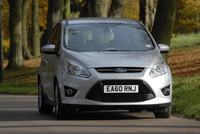 Ford's new C-MAX and Grand C-MAX are packed with standard 'infotainment' features to keep the family connected, including Bluetooth with audio streaming and voice control, USB connectivity, Digital Audio Broadcast (DAB) tuner and next-generation audio and navigation systems.
Across all new C-MAX and Grand C-MAX models, customers can enjoy the safe and convenient benefits of Bluetooth with audio streaming and voice control, enabling hands free calls and voice operation of the mobile phone, audio and climate controls. Integrated sockets for an ipod, MP3 player or USB stick are also mounted in the central stowage compartment and can be operated via the car's audio system.
In addition, C-MAX and Grand C-MAX are the first vehicles within the Ford range to have DAB as standard on all models.
Ford Ennals, chief executive, Digital Radio UK said: "Drivers love listening to digital radio in their car so we welcome Ford's announcement that 100 per cent of the market leading C-MAX range will have digital radio fitted as standard. This is an important milestone in the transition for all new cars to have digital radio fitted as standard by 2013."
Customers choosing the Zetec model will enjoy the latest Ford audio system which includes a Digital Sound Processor to optimise sound settings, six speakers, DAB tuner and twin-antenna aerial system. The Titanium version has the premium Sony system with a stylish piano black integrated control panel, superior digital process capability, MP3 playback feature and nine speakers.
Both Sony and Ford audio systems can be combined with a new SD card-based optional navigation system. Navigation information is presented on the large five-inch high resolution colour display in the instrument panel and includes turn-by-turn instructions, real sign posts, 3D views and speed limit display. The system is supplied with an SD card containing all western European maps.
The Sony DAB navigation system comes complete with a rear view camera. The rear view image is overlaid with lines that mark the width of the vehicle for easier parking in tight spots. The camera's low light capability, combined with the intensity of the reversing lamps, means full functionality even in dark parking areas.
Mark Simpson, marketing director, Ford of Britain, said: "The C-MAX has evolved to offer the family maximum flexibility, convenience and comfort. These smart new audio, mobile and navigation systems will enhance the driver and passenger experience. No matter which C-MAX or Grand C-MAX a customer chooses, they'll stay connected."
Ford's all-new C-MAX and Grand C-MAX are on sale now, priced from just £16,745 for the C-MAX Zetec and £18,745 for the Grand C-MAX Zetec.