Le Caterham Academy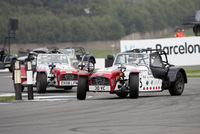 With the 2011 Caterham UK Academy already sold out, Caterham Motorsport is launching a French version of its series for novice racers.
Run by Caterham's experienced French motorsport agent, Caterham Competition France (CCF), the French version of the Academy, will be similar in format to its UK cousin, taking aspiring racing drivers through the race license process and then putting them through their first competitive season.
Supported by France's premier motorsport magazine, Sport Auto, the all-new French Academy will build on an already thriving Caterham community in the country – France is the company's biggest and fastest-growing export market.
The UK Caterham Academy has been running since 1995 and has created more new racing drivers than any other initiative. It is still as popular as ever, with the two 28-car grids for next year already sold out.
The Academy is the starting point of the Caterham Motorsport 'ladder' which provides the novice driver with the opportunity to progress through the performance ranks as the their experience and skill develops through the season.
Caterham Motorsport Manager, Simon Lambert, said: "CCF has already sold over 40 Superlight R300 race cars in France for one-make championships, so we know there is demand for Caterham racing.
"Once our French novice drivers have completed the Academy, there is a ready-made and proven infrastructure there for them to move up the performance 'ladder' and race R300s."
Sport Auto will run a nationwide competition for one of its readers to win a season of driving in the French Academy.
The package includes a road-legal Academy Seven, technical support and on-event guidance from Caterham's experienced team, as well as an introduction to several different motorsport disciplines, with circuit racing, hillclimbs and sprints all on the 2011 calendar.
The success of Caterham's UK Academy is down to the affordability of the programme, its ability to make an entry to competitive motorsport accessible and the sense of camaraderie imbued in the drivers. Over the years, the series has created hundreds of new racing drivers from all walks of life – the UK class of 2010 included a pilot, a microbiologist, an actor and a brewery chairman.
For more information, visit caterham.co.uk.