Turkey to save the EU from economic disaster?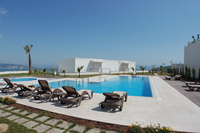 As Ireland is forced into a 90 billion euro bailout, fears mount that other peripheral nations involved in Europe's debt crisis will not be far behind – Spain and Portugal the most-likely candidates. It is against this gloomy backdrop that Turkish State Minister for EU Affairs, Egemen Bagis, boldly stated that Turkey was a "key country for the future of the European Union". He may have a point.
Speaking in Bodrum last month in his official role as Chief Negotiator for Turkey in accession talks with the EU, Bagis listed quite clear reasons why Turkey's membership was so important to the EU. Referring to economic crisis, an Achilles' heel for the EU, he highlighted Turkey's world-record GDP growth of 11% for the first half of 2010. With relation to energy, he pointed out that this was one of Europe's biggest problems whilst 70% of all energy required by Europe was within reach of Turkey's borders.
Bagis continued to discuss how Turkey could open up valuable new markets to Europe with 1.5 billion people within a three-hour flight of the nation. Meanwhile Turkey could also assist in Europe's security problems due to currently having the largest Army in Europe and the second largest in NATO. He also pointed out that, with regards to integration, Turkey could teach the EU a thing or two having a civilization that brought together Islamic culture and democratic culture. Although Bagis was careful that debate wasn't all one-way and conceded that the EU accession process had been highly beneficial for Turkey making it more contemporary and more respectable.
Daniel Dias for developer Signature International, building Horizon Sky close to Bodrum, highlights one problem, "Ironically, now Turkey's fine economic and strategic attributes have been exposed, the population is no longer so keen to join the EU. Whilst Bagis and his colleagues press on in their mission for EU membership, only 38% of Turks polled in September 2010 now want to join versus a more healthy 73% in 2004. And, to be honest, as they watch the likes of Ireland, Spain, Portugal and Greece struggle – why would they want to throw their record-breaking GDP growth into the snake pit?"
The current Turkish Government, with the conservative AK Parti in majority rule, is democratic, committed to deep-rooted reforms and is almost definitely going to be re-elected in 2011 elections pencilled in for 12 June 2011.
For more information, visit signatureinternational.co.uk.
Horizon Sky
Some 35 minutes from Bodrum, on the sundrenched slopes of the Bay of Güllük dipping into the Aegean Sea, Horizon Sky is an upscale community of apartments, penthouses and villas - all with private gardens or terraces. It's the first resort in the area to feature an American-style Country Clubhouse which flanks a private beach. This facility houses a rooftop restaurant, sports bar and café, fitness suite, Spa, heated indoor and two outdoor pools. Meanwhile mini golf, several tennis courts, a grocery store, 11 more swimming pools and various Mexican, water and Japanese relaxation gardens are scattered throughout the resort.
A jetty and private water-taxi are in operation to deliver residents and guests across the Bay to Güllük town, which is a swift ten-minute drive from the International Airport, whilst plans are going through the approval process for an 80-berth marina. This asset will further enhance the investment and rental potential of Horizon Sky. An on-site reception and concierge alongside a rental management office are also on hand to maximize occupancy throughout the year.
Prices at Horizon Sky start from €98,000 euros (approx. £85,000GBP) for an 87m² duplex two bedroom apartment. Customers can name a deposit from 20%, name their preferred term (from five to ten years) and Horizon Sky will adapt a plan to suit. Monthly payments can be increased or decreased as necessary, as much as 45% can be delayed for five years or the entire amount can be paid off early. The developer is also offering ten-year finance plans at a rate of 5.9% interest, around 2% below a Turkish mortgage rate.