Scania Irizar PB for Coach Choice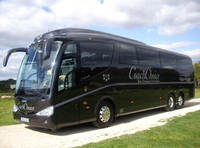 Wolverhampton-based Coach Choice Limited has taken delivery of its latest new Scania coach, a tri-axle Scania Irizar PB luxury tourer, from Scania (Great Britain) Limited. Appointed to an extremely high specification, the vehicle is now being marketed to operators of prestige UK and continental tours.
Based on a Scania K420 EB 6x2*4 chassis, the vehicle features a 420 horsepower Scania engine coupled to a Scania Opticruise automated gear selection system for maximum driveability and passenger ride comfort.
The 12.9-metre Irizar bodywork is fitted with extra-dark tinted glass and offers ample luggage storage space. Inside, are 42 reclining leather seats equipped with three-point seat belts and seat-back tables. A sunken centre toilet is fitted and at the rear of the passenger compartment is a kitchen area with four refrigerators, a freezer, coffee percolator and two water boilers. A DVD player with three video monitors completes the interior specification.
"With Scania the product is always good, strong and durable," comments Coach Choice Limited Managing Director Chris Evitt. "Couple that to the tri-axle Irizar PB body and you have a vehicle with massive appeal, both from our point-of-view and that of our passengers. The early feedback we have received is exceptional and we are thoroughly delighted with our purchase."