I'm not a celebrity but I'd like to go there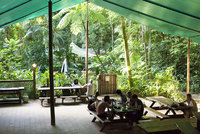 Jungle surfing in the canopy of the oldest rainforest in the world is just one of the unique experiences YHA Australia offers during a stay in the Australian jungle and you won't even have to face a bushtucker trial - but the option is there if you want to!
Northern Queensland is most famed for The Barrier Reef and gorgeous isolated beeches, but it is also home to the oldest rainforest in the world and World Heritage Listed Cape Tribulation and Daintree National Parks. Nestled within the rainforest is Crocodylus YHA an absolute jewel that enables first hand experiences with some unique wildlife and a once in a lifetime chance to sleep under the canopy of one of nature's magnificent giants.
From your hostel you can take part in your own celebrity experience with freshwater swimming holes, crocodile cruises and the opportunity to go jungle surfing. This is an experience you will not want to miss, it's literally a rainforest tour where your feet don't touch the ground. You fly through the trees on flying fox ziplines stopping at 5 tree platforms to take in spectacular bird's eye views over the treetops, down to cascading streams and out to the Great Barrier Reef. For more information go to junglesurfing.com.au.
For animal lovers there are organised night walks where you can spot possums, snakes, rainforest dragons, tree frogs, lizards and fireflies.
The hostel itself is definitely more luxurious than the Celebrity camp with a great restaurant offering home-made meals, bike hire, a swimming pool, bbq and volleyball court. There are single, twin, double and multishare rooms available and also a licensed bar where you can mix with fellow travellers and exchange tales of your adventures. Prices start from £14 per person per night.
Of course there may be some who feel they haven't had the full "I'm a Celebrity...." experience unless they've eaten some grubs or munched on some locusts and fortunately for those purists there are many hostels in North Queensland which are ideally located for a bush tucker tours including Cairns Central YHA where guests can book a "Tjapukai By Day Tour" (tjapukai.co.au) and visitors to Port O'Call YHA in Port Douglas can experience a 1.5 hour walking tour in Kuku Yalanji (yalanji.com.au).
For further hostel information and reservations go to: yha.com.au