Escape the rental trap with a new home in Chorley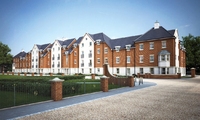 Escape the rental trap to a home of your own in Lancashire with the help of a Government-backed scheme.

According to property website Zoopla, buying is more cost effective than renting in 80% of towns and cities in Britain. And at Buckshaw Village in Chorley purchasers could save even more thanks to HomeBuy Direct.

Lesley Myers, area sales manager for Redrow Homes (Lancashire), commented: "The average age of first time buyers purchasing without financial assistance from their parents is now 37. Many have resigned themselves to a lifetime of renting under the misconception that they won't be able to afford a home of their own but with rents in Preston 20% higher than mortgage repayments now could be the time for them to step onto the property ladder."

At Sandhurst Gardens and the Cedar Walk phase of Buckshaw Village, both in Chorley, there's a selection of homes that are perfect for first time buyers, who could initially save almost a third of the purchase price.

For example a two-bedroom apartment at Cedar Walk, on the market at £109,995, could be snapped up for an initial outlay of only £76,997; while a three-bedroom home at Cedar Walk, priced at £155,995, could be purchased for as little as £109,197 with HomeBuy Direct.

Open to first time buyers, families in need of extra space and those who are starting over after a change of circumstances, HomeBuy Direct enables eligible customers to take out an equity loan for up to 30% of the purchase price of selected properties. Jointly funded by Redrow and the Homes and Communities Agency, the loan is interest-free for the first five years and can be repaid when the customer has more funds available or they come to resell.

"HomeBuy Direct is designed to help those who would otherwise be priced out of the property market to invest in their future with a home of their own," Lesley explained.

"Some people think the scheme is no longer available as the allocation for some housebuilders ran out at the end of September. But that's not the case for Redrow in Chorley where we have a limited number of homes available with the help of HomeBuy Direct at Sandhurst Gardens and Cedar Walk. There's still time for other would-be homeowners to take advantage of the scheme, but limited funding means this valuable assistance is available on selected new homes only."

HomeBuy Direct customers should only need a relatively small deposit of around 5% of the reduced cost. They will only need to apply for a mortgage with a maximum loan-to-value of 70%, which should generally give them access to improved mortgage interest rates.

To find out how HomeBuy Direct could help you buy the home of your dreams at an affordable price, visit your nearest Redrow development and speak to the friendly team of experienced sales staff.