The Stig's Caterham R500 takes its final bow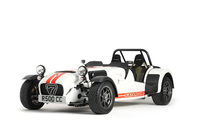 The Caterham Superlight R500 in which Top Gear's erstwhile Stig set the BBC programme's test track alight is making its final journey next week before being retired from active service.
The iconic R500 CC, which embarrassed many far more expensive supercars and was named Top Gear's 2008 Car of the Year, will be on display at the Marks & Spencers store at the Bluewater shopping centre in Kent.
It will be promoting the expanded M&S range of remote control R500s – as well as the Stig's colour scheme, you can now also buy a red version with a white stripe.
While customers seeking the ultimate Seven drive will still be able to buy their own R500 models, the Bluewater appearance will end R500 CC's time on the Caterham Cars press fleet, the car only being made available for special events.
Caterham Cars' marketing manager, James Drake said: "The white and orange R500 has already claimed its place in motoring history. It's worked hard since the new R500 was launched in 2008 and we feel it's now time to let it have a rest. It will still be available as a static display car, but its hard driving days are over.
"We're stopping short of wearing black armbands in the office, but it's still going to be a sad day when its final public engagement is over."
The car's many fans can celebrate its achievements with the remote control versions, available in time for Christmas from all M&S stores, priced £19.50.
Meanwhile, the real thing will be on display at the Bluewater store between Monday, December 6 and Sunday, December 12 and the R500 model is still available from Caterham Cars from £40,200.
For more information, visit caterham.co.uk.