'Snow & Sun' special with Wicked Campers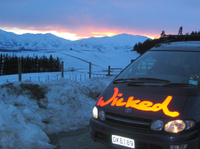 Can't decide on a snow or sun trip? Then how about both! Wicked Campers are offering a budget snow special to Spain's southernmost ski resort, Granada, where visitors can easily hit the coast of nearby Costa del Sol in the same day.
Prices for van hire, accommodation, ski pass and equipment hire start from as little as £147 per person, based on two nights.
Perfect for a weekend away, Wicked Campers have teamed up with specialist ski and snowboard operators to offer customers awesome snow packages to Granada with van hire from Malaga. This exceptionally good-value snow package provides independence and freedom for snow-goers to get off the tourist trail and explore the surrounding area as well as the beautiful beaches near Malaga and the Costa del Sol. The vans also provide plenty of room to transport ski and snowboard gear.
Granada is an easy two-hour drive from Malaga. As Spain's number one location for winter sports, the Sierra Nevada offers the best snow and the longest season in the country. Better still, with its close proximity to the coast, people can ski in the morning and sunbathe on the beach in the afternoon on the same day. Now that's wicked!
Prices with Wicked Campers start from £147 per person. The price is based on five people sharing a multi-seater van and includes two nights' hostel accommodation, equipment hire, lift pass and three days' van hire from Malaga with insurance for one driver aged 25 and over and 24-hour roadside assistance. Flights not included.
The season in Granada runs from December through to April. Wicked Campers offer a choice of two-seater and multi-seater vans that take up to five adults. To book, go to wickedcampers.co.uk and book a van from Malaga (minimum three-day hire for ski specials) and then add the required snow package as an optional extra.