Business man puts lifes savings into overseas property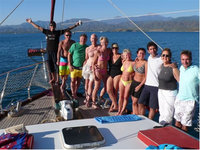 John and Mary Watson live in Bingham, Nottinghamshire and recently John sold his photographic business. "I have always been prudent with my earnings and saved assiduously over the years but frankly the rates being paid to savers at the moment are so derisory I could see a better future in property investment abroad where we could secure capital growth plus the joy of a holiday home in the sunshine."
Mary and John decided to visit Fethiye in Turkey on the sunny Mediterranean coast. They initially contacted Select Resorts, a Poole based overseas property company with over 25 years experience. Select Resorts discussed their requirements and arranged their visit to Turkey where they were introduced to Select Resorts' Turkish property partner, Suleyman Akbay, MD of Oceanwide Properties, a professional company specialising in properties in this region.
"We went on an inspection trip and viewed a number of properties and on the very last day we found a brand new detached house, one of four, which we adored", adds Mary. "We spoke to the developer and when we discussed knocking down a wall to make the four bedroom house into a three bedroom villa plus various other changes to the property to create our dream home, it was agreed immediately by the developer. What I was particularly pleased about was the fact that the MD of Oceanwide Properties, Suleyman Akbay, looked after us so well. On the last night feeling excited about our villa find, yet being tired, Suleyman suggested we stay an extra night to allow us a 2nd viewing the next day, to make absolutely sure the property was right for us. Hotel and flight arrangements were all taken care of for us."

"Property prices in Fethiye are increasing on average around 7/10% per annum", says Suleyman Akbay of Oceanwide. "The superb value for money properties and the excellent capital growth are perfect for John and Mary. Should they ever decide to rent, a property such as theirs could, in the high summer season, secure an income of around £800 per week."
Fethiye is an active town and it does not close down in the winter like some resorts. It therefore offers owners year round facilities which is why it is so popular. Fethiye has a pretty marina, recently extended promenade to Calis and a wonderful choice of shops, bars and restaurants. Flying from the UK is just under four hours and there is a wide choice of airlines into the international airport at Dalaman.
If you are looking for capital investment abroad then Turkey is a real contender. A recent survey carried out by Assetz on the real estate market shows Turkey is fifth in the list of investments in the field. With praise from former world bank president James Wolfenson stating, Turkey's "economy administration" was the "best of the world" and former President Bill Clinton stating that Turkey has a "major economy which managed to come out of the crises at an amazing speed", this is a country in which to invest. John could obviously see the potential of capital growth in his new home.
Concluded Suleyman," As a company our policy is to provide the very best service possible which is why we become so close to some of our clients during the purchasing process. Our regular boat trips are to enable us to introduce British buyers to each other and also for us to build on our new friendships".
Currently being marketed through Select Resorts and Oceanwide Properties is a wide choice of homes including the following-
Calis, Nr Fethiye, Mediterranean coast, Turkey (ref 1678323) Two bedroom, ground floor apartment with open plan fitted kitchen and lounge plus balcony where there is a built in BBQ. Walking distance of Calis beach, restaurants and bars. Bus service every 10 minutes. Nature reserve. State of the Art Government hospital. PRICE £54,000
Sunshine Villas Calis, nr. Fethiye, Turquoise Coast
Small stylish development of 10 luxury villas is in a superb location, just 15 minutes walk from the beach and Calis resort and highly suitable for a permanent or a holiday home. As a rental property it is an excellent financial investment as friendly ex-pat and Turkish communities live in Calis throughout the year. Rental return per week in high season expected around £800. Located in a quiet area by the canal and just a 15 minute walk from the popular beach and Calis resort centre. Each villa will be of contemporary design and sit on its own 400 m² plot of land. They will benefit from many luxury features including extra large balconies and terraces, private pool, car port and garden. PRICE £145,000
Portville, Port Gocek. Superior residences with private moorings and direct acccess to yachting basin, which is serviced by Champer & Nicholsons. Portville is part of Swisshotel Gocek Marina Resort with 130 villas. Residents can use facilities of 5* hotel including resturant, bars, sailing school, tennis courts and swimming pool.

Prices range from £433,343 for a two bedroom property to over £1 million for a five bedroom house.
For more information, visit oceanwideproperties.co.uk and selectresorts.co.uk.