Mitsubishi L200 wins What Van? Pick-up of the Year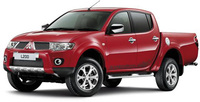 Mitsubishi Motors is celebrating for the fifth consecutive year after winning the esteemed What Van? award for 'Pick-up of the Year' – an impressive 15 times in 18 years.
For many years the L200 has led the way with its innovation, styling, specification and its 4x4 capabilities. With a fully comprehensive range of pick-ups, the Mitsubishi L200 remains the leader in its segment at a staggering 32.6% of the market share year to date.
"The Mitsubishi L200 has again retained the What Van? Pick-up of the Year title, and it's easy to see why," said What Van? Editor Paul Barker. "The versatility of the range is unmatched, with everything from practical and functional single-cabs through to powerful lifestyle double-cabs, and all are as stylish and drive as well as anything in the market."
Lance Bradley, the Mitsubishi Motors UK Managing Director stated that "It is an honour for us to receive this award as it firmly establishes the L200 as the clear favourite among commercial vehicle operators.