Say YES! to a weekend getaway in Athens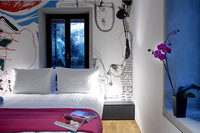 Yes! Hotels, Athens are now offering visitors to the Greek capital, the opportunity to enjoy a shopping experience with a weekend getaway.
Hotel guests who stay at Semiramis, Periscope, Twentyone and Kefalari Suites Hotels can avail of a 10% discount on art purchases at the Zoumboulakis Art Gallery as well as a 15% discount in many of the main shops in the city.
The shopping discount cards are handed to guests as they check in and give access to discounts in some of the best fashion boutiques in the chic Kolonaki and Kifissia areas in Athens. For those interested in contemporary art, The Zoumoulakis Art Gallery in Kolonaki Square features a large collection of replicas for sale by renowned contemporary Greek artists. The gallery was established in 1912, making it one of the oldest in Greece.
Semiramis, the 51 room boutique hotel in the leafy suburb of Kefalari has an energising colour scheme throughout the property, created by an exposition of psychedelic artwork. The hotel also has a fabulous bar and restaurant situated by the stunningly designed pool. In addition to the food, there is also unique furniture, contemporary art work and bags of style running through the hotel. The Periscope Hotel, is located in the heart of the city and draws its name from an electric periscope on the roof. With a 360° range, images are fed to an oversized plasma screen, which guests can control remotely from the Lounge Bar, on the ground floor.
Combining this with the YES! To Weekends package where rooms start at just €150 per night including breakfast and taxes, this presents a 'winter of content' to those seeking a luxury break with an added bonus. The discount card is available throughout 2010-2011.
For more information visit: yeshotels.gr