DAF LF Hybrid enters production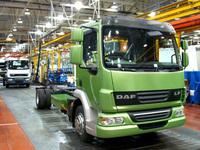 As one of the leading European truck manufacturers, DAF has started production of its hybrid distribution truck. The DAF LF Hybrid uses a parallel diesel/electric hybrid system, where the truck is driven by the diesel engine, the electric engine or a combination of both. Through DAF hybrid technology savings in fuel consumption and therefore CO2 emissions of between 10 and 20% can be achieved, depending on the application. The first DAF LF Hybrid left the Leyland production facilities in the UK on Thursday December 9th.
The 12 ton LF Hybrid truck is fitted with the 4.5-litre PACCAR FR diesel engine, which complies with the ultra-low EEV emission requirements as standard, without a soot filter. The engine produces maximum power of 118 kW/160 hp and is linked to an automatic Eaton six-speed gearbox (Autoshift). An electric motor has been installed between the clutch and the gearbox, which can provide drive as well as functioning as a generator. Energy released during braking is stored in the lithium-ion batteries and then used when accelerating. Depending on the degree of charge of these lithium-ion batteries, a central computer determines when the diesel engine provides the drive and when and to what extent the electric motor is used.
Lithium-ion batteries
The battery pack for the hybrid system weighs around 100 kilos and consists of ninety-six 3.6 Volt cells. When these batteries are fully charged, the LF Hybrid truck can travel about up to two kilometres on electric power without needing the diesel engine to drive it. In practice, this is enough to drive in and out of the "green zones" in city centres. In these circumstances, the diesel engine runs at idle in order to drive various components (such as the steering pump and the air compressor). The LF Hybrid is also fitted with a start/stop system.
The DAF LF45.160 Hybrid is only 300 kilograms heavier in total than the standard diesel-powered model. Because the DAF LF series is famous for its favorable kerb weight, the 12-tonne LF Hybrid offers a very useful load capacity of around 7.5 tonnes.
Operational lease
DAF is starting to supply the LF Hybrid in Great Britain, the Netherlands, Germany, France, Belgium and Czech Republic - countries where market research has shown that the interest in hybrid vehicles is highest. Depending on the success of the LF Hybrid in these markets, DAF will decide whether to include the vehicle in the standard product range in other countries.