Advanced Yamaha YEC-40 battery charger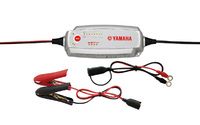 A year after the introduction of its first motorcycle and scooter Battery Charger, Yamaha now brings you the new, advanced YEC-40 Battery Charger.
The original Yamaha YEC-8 battery charger launched at the end of 2009 was a runaway success, providing motorcycle and scooter owners the peace of mind knowing that whenever they thumbed the starter button, their vehicle would start.
Once again, working in partnership with renowned automotive electronics experts CTEK, Yamaha have developed the new YEC-40 which takes battery charging to a whole new level, providing complete, safe and effective battery care.
The new Yamaha YEC-40 belongs to a new generation of battery chargers and once again comes at a perfect time for Yamaha owners as the winter is now upon us, but this time the cutting-edge charging technology is available for a much wider range of battery applications including motorcycle, scooter, ATV and Marine products.
YEC-40 features include:
Fully automatic 8-step charging process
Suitable for maintenance charging small battery types, 12v applications and up to 140 Ah
Battery health analysis programme and ability to remove harmful lead sulphate crystals
Specially adapted charging algorithm for seasonally used vehicles
'Recondition' mode for deeply discharged batteries,
'Cold' mode for optimum charging during winter periods and demanding AGM batteries
Robust design – water (IP63 rated) and dust resistance
Surge protection
Integrated protection from short-circuit, sparks and reverse polarity
Multi-use charging clips for different/additional vehicles
5 Year Manufacturer's Warranty
Storage bag
The new Yamaha YEC-40 Battery charger is available now from Authorised Yamaha dealers and is priced at £64.99 RRP inc. VAT. Full details are available on the Yamaha website (yamaha-motor.co.uk/accessories) or alternatively, get down to your nearest Authorised Yamaha dealer for more information.