Mitsubishi conducts foundation ceremony for new factory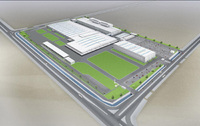 Mitsubishi Motors Corporation (MMC) has conducted a Foundation Stone Laying Ceremony for a new third factory of its Thailand producer and distributor, Mitsubishi Motors Thailand (MMTh) at the site where the new factory is to be built in at the Laem Chabang Industrial Estate in Chonburi province. The ceremony was attended by dignitaries including Thailand's Minister of Industry Chaiwut Bannawat and MMC President Osamu Masuko.
The third factory will be built adjacent to the first and second factories, and is planned to start mass production in March 2012. It will produce the "global small" 1.0-1.2L class compact vehicle that MMC plans to launch in fiscal year 2011. Initially, the production capacity of this new factory will be around the 150,000-unit per year level, and in the future it can be boosted to the 200,000-unit per year level. The new factory is planned to hire around 3,000 new staff.
The "global small" to be produced at the new factory will be a new vehicle based on a completely new platform currently being developed by MMC with "compact," "affordability," and "fuel efficiency" as the basic concepts for the vehicle. The "global small" will conform to Thailand's Eco-car Project, implemented by the Thai government with the objective of promoting investment in Thailand's automobile industry and reduction of dependence on fossil fuels and greenhouse gas emissions. The "global small" will be positioned as an entry model in MMC's model line-up, and plans are to export the vehicle from Thailand to markets worldwide as a global strategic vehicle that corresponds to both market needs of emerging countries, for which demand for automobiles is expected to increase, and advanced nations, where vehicle downsizing is increasing in order to correspond to energy issues in addition to environmental awareness.
"Global small"
Minister Chaiwut Bannawat expressed his pleasure at the ceremony: "It's my great pleasure that Mitsubishi Motors Thailand's factory becomes a part of our Eco-car Project. This Mitsubishi factory will bring to Thailand many technologies for automobile production and lead to improve labour skills for auto industry as well as related industries."
In addition, MMC President Masuko added: "It's a great honour to have this memorable day for the construction of the third factory. From the beginning, Mitsubishi Motors Corporation has strongly believed in Thailand's potential as the production hub for global markets; now Mitsubishi Motors Thailand became the production base of our 1-ton pickup. We share the Thai government's environmental concerns and we have made Thailand the global production hub for the "global small."