New ski resort opens in Turkey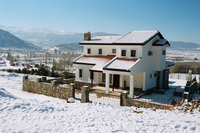 Seki Ski Resort in Seki, near Fethiye, which is on the Turquoise coast of the Mediterranean, Turkey, has just been opened. This brand new ski resort is expected to attract a high number of ski enthusiasts because of its easy accessibility and the fact that these are virgin ski runs.
At 2780 metres above sea level on the mountain of Erendagi, which is part of the mountain range called Toroslar, the ski resort is at just 1920 metres above Seki.
There are three slopes; one for skiing and two for snow boarding. There are experienced instructors available to give lessons. A cable car takes skiers to the height of the slopes.
There is an hotel, with eight rooms, which is anticipated to open in the next few weeks. In addition, there is a hire shop for equipment and a restaurant with seating for 100 customers. A brand new ground station with welcoming café, medical centre and ticket office has also opened.
"This has long been awaited in this beautiful hinterland of Turkey", says Suleyman Akbay, MD of Oceanwide Properties. "Fethiye the coastal resort is well known to many people as it is an active year round town with a wide choice of shops, bars and restaurants and Seki mountain village is just over an hours drive inland."
The traditional village has a town square, shops, mini market and local taverns together with a weekly market. The brand new ski slopes are just 12 km away and can be reached by car or the local dolmus service.
This country location offers a great deal including year round horse riding, climbing, rambling and fishing in Lake Girdev. Around two hours drive is Antalya, which like Fethiye, enjoys a mild winter season. Antalya too, has much to offer including major shopping facilities, souks, an attractive harbour with cafes and stalls spilling out onto the pavements plus a castle and nearby some stunning waterfalls cascading from the cliff face directly into the sea. This region therefore has much to offer and the proximity to the ski slope adds to its appeal.
Continued Suleyman,"Turkish people have always realised the beauty of this area and appreciated the gentle summer breezes that are a relief during the mid summer heat of the lower regions. The opening of the ski resort will inevitably bring an even greater interest in the region which is why we are now marketing some brand new detached villas from £165,000"
Seki Village.
12 km from new ski resort – Eren Mountain.
45 miles from Fethiye.
1.1/2 hours drive from Dalaman airport. (Frequent flights from UK)
Three bedroom detached villas with stunning views of fertile valley (famous for growing apples), and the mountains in the distance.
Jacuzzi, open fireplace to spacious lounge, air conditioning, solar panels, heating system. Private heated pool. Garden with BQ. Private parking.
Selling off plan now from £165,000.
Concluded Suleyman "We anticipate this region increasing in popularity with the advent of the opening of the Ski resort, therefore those investing now may well feel the benefits of the capital growth and rental possibilities. Locally homes have been increasing on average over the last couple of years by anything from 7 – 20% depending on location. A rental return on a three bedroom detached villa in the ski season should be around £1200 per week."
For more information, visit oceanwideproperties.co.uk.