Briggo's charity Yamaha WR250R ride bike to go to auction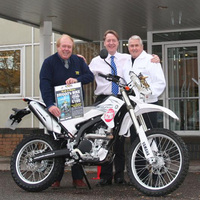 When 4 times World Speedway Champion, Barry Briggs MBE, set out to raise money for injured speedway riders in the spring of this year, he had an innovative idea for boosting the fund. He offered 'Ride Share Certificates' priced at £100 each with the promise that at the end of the ride, one shareholder's name would be drawn and they would win Barry's Yamaha WR250R.
It was a great idea and 100 generous people stepped up to the plate, raising £10,000 of the staggering £69,000 that Briggo's ride generated. When presenting 12 the riders with their cheques, just in time for Christmas – over £5,000 each with the balance going to Sport Relief – the winning share certificate was also drawn.
The lucky winner - Ipswich based James Easter of speedway tour operator Travel Plus Tours, officially collected his prize at the Surrey headquarters of Yamaha Motor UK yesterday, 17th December. On hand to present the bike were Briggo of course and Yamaha Europe's Vice President, Andrew Smith.
James was delighted by his win but doesn't intend to keep the historic bike. When quizzed he said "Frankly I do not deserve the prize. The bike is now a collectors' piece and should be enjoyed by someone who has the time and love of biking to make the most of it".
"So I intend auctioning the bike and re-donating the money back to Briggo to enhance his extremely worthwhile charity."
So Briggo's trusty WR250R - with over 6,000 miles and £10,000 to its credit already - is set to make even more for this worthy cause. But not before Briggo rode one last lap of Yamaha's car park (anti-clockwise of course) to bid farewell to his faithful friend!