Carnegie Fuels take first DAF into tanker fleet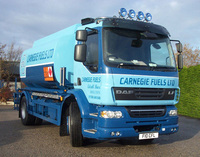 It was a challenging start for a new DAF LF55 that recently joined the fleet of Carnegie Fuels of Brechin in Angus. Peak demand for heating oils coincided with the worst early winter conditions that Scotland had experienced for years.
Despite these difficulties the truck was immediately hard at work making up to 20 deliveries a day within a 30 mile radius of its base. The LF55's 6.7 litre GR engine is rated at 250 bhp (184 kW) resulting in a generous power-to-weight ratio of 13.88 bhp/tonne at 18 tonnes gvw and this, combined with 950 Nm of torque at between 1200 and 1700 rpm and the specification of a diff lock, have helped the truck cope well with the slippery conditions.
Carnegie Fuels supply a wide range of fuels from domestic heating oil to agricultural diesel and the 13,000 litre four-compartment Tasca tank, built to ADR 2009 standards, offers the flexibility to carry mixed loads. The aluminium tank uses an Alpeco bottom-loading vapour recovery system incorporating a product return capability and is fitted with a two inch flow meter complete with electronic head.
Deliveries can be made at a distance of up to 180 feet through a Collins Youldon powered rewind hosereel, which has a high capacity trigger nozzle with locking handle to ensure fast delivery. A propshaft-driven Mouvex cargo pump with gas separator is fitted and is activated through an air-operated clutch type PTO incorporating a failsafe handbrake interlock.
The DAF is a real head turner in its attractive two-tone blue colour scheme and with combi lights in the bumper, a roof-mounted lighting bar with four spots, and a full width sun visor. A personalised registration completes its stylish appearance.
With a wheelbase of 4150 mm it is a compact vehicle and this, combined with the LF55's good turning circle, make it easier to deliver into locations with restricted access. Its size is also more suited to the local road conditions, which include many narrow country roads.
Established over 50 years ago, Carnegie Fuels is a family run business providing fuels, lubricants and additives to domestic, farming and business customers across Angus, Perthshire and Fife.
Managing Director Kevin Carnegie says that the new DAF was acquired to meet business growth and is an addition to their fleet, which now numbers nine tankers.
"We're pleased with its performance so far in what have been some of the most atrocious weather conditions that we've seen for some time," he says. "The truck came well specified for the job, at a competitive price and with the promise of good back-up from Norscot. We're looking forward to it giving us a long and productive service life."
DAF dealer Norscot Aberdeen supplied the truck and will provide parts and service back-up. Routine inspections will be carried out by Carnegie Fuels' own mechanic at their Edzell fuel depot from where the truck operates.