10 best cosy winter hotels in Europe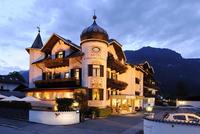 When it's dark and cold outside, having a warm, comfortable place to snuggle up and spend the night is a great way to keep up your spirits.
But just because you are travelling doesn't mean you have to settle for a gloomy hotel; there are many places whose atmosphere, service, and surroundings create a cosy ambiance that will rival or exceed the comforts of your own home. For this reason, the hotel price comparison website trivago.co.uk has located ten top-rated hotels across Europe that specialise in curing the winter blues.
With picture-perfect snow-covered landscapes, romantic backdrops, roaring fires in the fireplace, thick carpeting, comfy chairs and a hot cup of tea, coffee or coco at the ready, these hotels are guaranteed to help you forget the snow and cold and give you a hearty dose of holiday cheer.
Here are the ten hotels, listed according to the ratings they received from travellers on trivago and other online review sites:
1. Hotel Ko?ciuszko (Krakow, Poland)
Hotel Kosciuszko is a former guesthouse in the summer residence of the Bishops of Krakow. To this day, the four-star hotel has preserved the distinguished elegance of former times, and soft carpets, antique wooden furniture, broad mirrors and paintings all contribute to the building's venerable character. Newcomers to Krakow should not miss the opportunity to visit Wawel Castle and stroll through the city's Old Town, which holds some of Europe's most impressive medieval architecture. At the end of the day, guests can curl up in a warm chair by the lobby's large, open fireplace, or retreat to the warmth of their cheerfully decorated rooms.
Available starting from 48 pounds per double room per night including breakfast via Booking.com (21.01.2010 – 23.01.2010)
2. Parador de Artíes (Artíes, Spain)
The Parador de Arties is located in a small mountain village in the Catalan Pyrenees. This charming four-star hotel is surrounded by deep valleys and snowy mountain peaks, which attract many winter sports enthusiasts. Heavy wooden beams and a slate roof are a visual reminder of the building's well-established history as the former residence of Gaspar de Portola, founder of the city of San Diego. With individually decorated guest rooms, rich fabrics and antique furniture, the Parador de Arties offers a grandiose place to spend the night after a day on the ski slopes.
Available starting from 118 pounds per double room per night including breakfast via Booking.com (14.01.2010 – 16.01.2010)
3. Turm Hotel Grächerhof (Grächen, Switzerland)
On a high plateau in the Swiss Alps, the tower hotel Grächerhof greets its guests 1,600 metres above sea level in the car-free holiday town of Grächen. Visitors arriving in this peaceful three-star hotel will immediately feel welcome as they enter the main lobby and pass its large, always-burning fireplace. The rooms are equally warm and inviting, and the hotel's location in the wine-growing region of Valais makes it an excellent starting point for an exploration of the area's scenic and viticultural treasures.
Available starting from 93 pounds per double room per night including breakfast via Hotels.com (17.01.2010 – 19.01.2010)
4. Hôtel Les Grands Montets (Argentière, France)
In the middle of the French Alps, in the popular ski resort of Grands Montets in Argentière, lies the Hotel Les Grands Montets. Wooden beams and warm colours give a distinct alpine ambiance to the hotel and its 48 individual rooms. Active guests can spend the day skiing or snowboarding in the French Alps, while guests looking for more leisurely activities will want to take a chair lift up to the top of the 4000-metre high Aiguille Verte (Green Needle) mountain, from which a breathtaking view of the entire valley can be found.
Available starting from 107 pounds per double room per night including breakfast via Booking.com (26.01.2010 – 28.01.2010)
5. Hotel Palazzo Seneca (Norcia, Italy)
Palazzo Seneca is a venerable residence in Norcia in the Umbrian province of Perugia. This 16th century palace is run by the Bianconi family, who can proudly claim an uninterrupted 150-year hotelier tradition. Guests staying in one of the elegant hotel's 24 rooms will find themselves living in true royal splendor. Massive beds, sumptuous furniture, and regal leather upholstery combine together to create an impressive atmosphere. The surrounding National Park Monti Sibillini invites winter hikes in the wild for wanderers and amateur photographers alike, and in the evenings, guests will thoroughly enjoy a candle-lit dinner at the Vespasia restaurant.
Available starting from 110 pounds per double room per night via Venere.com (17.01.2010 – 19.01.2010)
6. Hotel Culloden House (Inverness, Scotland)
The Culloden House Hotel is a magnificent estate in Inverness in the Scottish Highlands. The building dates from the 16th Century and was refurbished in a Gregorian style. Over the course of its illustrious history, Culloden House has served as the battle headquarters and residence of many royal guests. Guests are received with true Highland hospitality, and the hotel's 40 acres of land are home to countless parks and gardens for those wishing to witness Scotland's ethereal winter beauty for themselves. A trip to the Loch Ness is a must on any itinerary, and an original Scottish whiskey by the crackling fireplace is an excellent way to end the day in style.
Available starting from 125 pounds per double room per night including breakfast via LateRooms.com (17.01.2010 – 19.01.2010)
7. Hotel the Montague on the Gardens (London, England)
Hotel the Montague on the Gardens is an elegant city hotel in the West End in London. In addition to being centrally located, guests will find this hotel to be well sheltered from the urban bustle of the capital, and therefore an excellent place to escape the throngs of visitors that visit the city each day. London is a treasure trove of cultural and touristic activity, and famous landmarks such as Buckingham Palace and the Tower Bridge should be one every visitor to the city's to-do list. After wandering the markets of Camden Town or taking in a musical, sipping tea by the fireplace in the Montague's tea room is a delightful way to bring the evening to a close.
Available starting from 197 pounds per double room per night via Lastminute.com (14.01.2010 – 16.01.2010)
8. Hotel Staudacherhof (Garmisch-Partenkirchen, Germany)
The cosy Staudacherhof hotel is located high up in the mountains in the Bavarian resort town of Garmisch-Partenkirchen. Guests will find themselves in a modern hotel that blends country style with a soft Mediterranean touch. The hotel specializes in wellness and relaxation, and offers a myriad of opportunities to luxuriate and relax; from its indoor and outdoor pools, to its alpine Hamam and soothing couple massages and spa treatments, your cares and worries will quickly be forgotten. In the hotel restaurant, the menu is changed on a bimonthly basis with fresh, seasonal ingredients, and the hot Bavarian delicacies offer a tasty contrast to the cold beauty of the surrounding mountains.
Available starting from 177 pounds per double room per night via Venere.com (17.01.2010 – 19.01.2010)
9. Hotel Schwarzer Adler Kitzbühel (Kitzbühel, Austria)
The Hotel Schwarzer Adler is a contemporary boutique hotel rich in traditional Tyrolean charm. Fashionable furniture is melded with local decorative styles featuring antler and horn, in a trendy yet tasteful manner. Winter sports opportunities abound in this popular ski resort, and there are runs for all skill levels. Alternatively, guests can take refuge from the outside cold by enjoying the Schwarzer Adler's 1000 square-metre spa centre. In the evening, guests can enjoy being pampered by the hotel's celebrated chef Stefan Hofer's culinary creations.
Available starting from 262 pounds per double room per night including breakfast via Booking.com (28.01.2010 – 30.01.2010)
10. Hotel De Brugsche Suites (Bruges, Belgium)
The small Hotel De Brugsche Suites can be found in the historical centre of Bruges. Exclusive antiques, fine tapestries and precious paintings adorn the walls of this charming, luxurious town house. Each of the hotel's three rooms has its own well-supplied fireplace, a treat whose value becomes fully appreciated at the end of a day spent exploring the many sights and attractions of this beautiful Flemish town. A stroll through the medieval Old Town is an absolute requirement, and gourmet fans will be thrilled to sample the numerous chocolates and pralines that are one of Belgium's most iconic specialties.
Available starting from 224 pounds per double room per night via Booking.com (21.01.2010 – 23.01.2010)
The ranking is based on the best rated hotels on trivago.co.uk with cosy and winter-related features (e.g. fireplaces, wooden construction, etc.) and ambiances.