Rising sales stimulate renewed confidence at Saab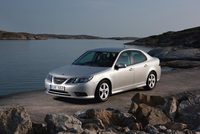 Saab Great Britain enters 2011 with sales momentum building in the UK following a steady improvement throughout last year, culminating in its best December sales performance since 2007. With improving sales and exciting new products in the pipeline for 2011, Saab GB looks to the future with renewed confidence.
2010 began with sales for the first quarter almost 60 percent down against the same period in 2009 as Saab Automobile resumed production following its purchase from General Motors by Spyker Cars N.V. of the Netherlands. UK sales then improved throughout the year, with the final quarter showing a 107 percent increase.
This upturn resulted in a full year volume of 5,898 units, down 21 percent, but a significant improvement against the first quarter position. December sales of 750 units reflected a market share of 0.61 per cent, three times higher than in December 2009.
Saab's biggest-ever new product offensive began in the second half of last year with the launch of the new 9-5 mid-size saloon and will continue in 2011 with the introduction of the 9-4X crossover and the new 9-5 SportWagon.
"Sales momentum across our dealer network is building as confidence in the brand returns," says Saab Great Britain Managing Director Jonathan Nash. "Production was at a standstill at the beginning of 2010 and did not resume until the sale of Saab Automobile was completed at the end of February. Since then we have seen a strong and steady improvement.
"The launch of our all new 9-5 Saloon and improved 9-3 diesel models with class-leading low CO2 emissions of just 119 g/km has given us considerable traction in the market place, which has been reflected in our improving sales performance.
"With the arrival of the 9-4X, our first crossover vehicle, and the introduction of the much-awaited 9-5 SportWagon later this year, we look forward to 2011 with renewed confidence."