Dress to impress with 2011 Yamaha MX gear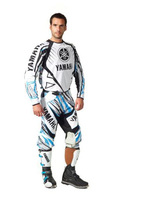 Standing out in the crowd is a tough thing to do these days, but the new line-up of 2011 motocross riding gear from Yamaha does just that. With the bold, eye catching colours and graphics, as well as advanced design and construction features, the new Yamaha MX Pro-Limited Edition and MX Start riding gear delivers the latest specifications for the demands of amateur riders and professional racers alike.
MX Pro–Limited Edition
The new 2011 MX Pro–Limited Edition riding gear is designed with the pro rider in mind, the rider that will stop at nothing to achieve the goal of winning and never settles for second best.

With stunning sublimation print graphics, the MX Pro jersey is constructed from a lightweight breathable material with mesh inserts for comfort and airflow, keeping you cool when you're under pressure.
Meanwhile, the MX Pro pants give you peace of mind being constructed from Armortex®, a Nylon and Kevlar fibre mix, offering exceptional durability and leaving you safe in the knowledge that you can take your racing to the limit.
MX Start
Are you new to off-road? Well the Yamaha MX Start riding gear is what you've been looking for. As well as showing your allegiance to the Yamaha brand with its bold print design, the MX Start riding gear provides you with fantastic spec, combined with exceptional value for money. The lightweight breathable jersey features raglan cut sleeves and a V-neck collar for comfort, whilst the Armortex® pants give you levels of protection that you'd expect to find on more expensive kit.
For full details on the new 2011 MX Pro–Limited Edition and MX Start riding gear, check out the Yamaha website at yamaha-motor.co.uk/accessories. Alternatively, get down to your nearest Authorised Yamaha dealer for more information.