The Perfume Shop prepares for Jimmy Choo frenzy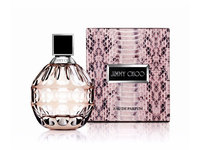 The Perfume Shop will be celebrating the New Year in style when it welcomes the debut scent by Jimmy Choo, available from 31 January 2011.

Hot off the heels of an iconic collection of infamous shoes, handbags and a partnership with H&M, Jimmy Choo is giving fashionistas far and wide the chance to invest in a stylish scent to complement their 'Choos' or even their Carrie Bradshaw-esque fantasies!

Oozing with the simple elegance of the brand, 'Jimmy Choo' is a fruity fusion of green top notes, exotic tiger orchid and orange blossom, with a touch of sweet toffee to add a twist that will warm any fashionistas' heart. Light, sweet and oh so stylish, Jimmy Choo is sure to send 'Choo' lovers far and wide into a fragrance frenzy.

"It was really the next natural step," said Tamara Mellon, fragrance creator. "I'd wanted to do fragrance from the beginning of Jimmy Choo. I want to accessorize a woman completely and fragrance is something a woman wears every day - it goes on her skin."

Encased in a smooth and chic orb-shaped bottle, Mellon was inspired by the luxury of Murano glass, however the bottle remains in the edgy realm of 'Jimmy Choo's' principles with its contrasting squared cap and faux pink and purple snakeskin box.

Perfect for the girl that can't quite stretch to an actual 'Choo' the debut scent is the perfect way to own a little slice of luxury. Jimmy Choo is available from January 31st 2011 in the following sizes, EDP 40ml, 60ml & 100ml, priced at £38.50, £48.50 & £67.50 respectively.