Valentine's romance in the Czech Republic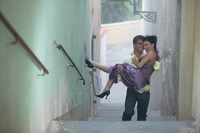 If you love history or like to indulge in luxury, spend St. Valentine's Day in one of the Czech and Moravian chateaux.
Enjoy a fairytale romance at Lou?e? chateau (zamekloucen.cz) located about 50 kilometres from Prague offering exquisite suites for couples in love or soak up the historical atmosphere in one of the suites at the baroque chateau of Jemništ? (jemniste.cz) not far from Prague cuddled by a fireplace with your loved one and being served breakfast directly to your apartment.
The Neo-Renaissance chateau Zbiroh (zbiroh.com) overlooking the woods of the Brdy Mountains, situated on the route between Prague and the town of Plze?, offers hotel rooms in the chateau chambers. They are decorated with antique furniture complying with European standards. The chateau's historical exposition is open to visitors throughout the whole year. Additionally, "Medieval" evenings are prepared for visitors every Monday.
You can get pampered at the hunting chateau of Mcely (chateaumcely.com), situated in Central Bohemia near the town of Mladá Boleslav. They are going to serve a special Valentine's Day menu. The chef working at the chateau of Mcely cooks according to old recipes of the first owners of the chateau, the family of Thurn-Taxis, and the chateau restaurant ranks among the top ten restaurants in the Czech Republic. The chateau's specialties also feature a pearl massage.
Lovers of old movies will definitely feel at home at the hotel Chateau Kot?ra (hotelkotera.cz) in the town of Ratibo? near Kolín. The hotel was built and decorated in the second decade of the 20th century by the founder of Czech modern architecture, Jan Kot?ra, and offers a Valentine's Day package for couples in love. It includes a three-course dinner with a quality wine, a bottle of sparkling wine and a flower for the lady.
Valentine's Day for Adventurers
Enjoy St. Valentine's Day skiing in the Czech mountains. It is a well-known fact that endorphins, a hormone for happiness, are released during sports activities. A number of hotels in Czech ski centres, such as in the ranges of Šumava or the Giant Mountains (Krkonoše), have prepared special offer packages for those in love. You can also stay right in a lookout tower and your Valentine's Day experience will definitely surpass your expectations: Ješt?d tower hotel (jested.cz) in the heart of the Jizerské Mountains or the tower hotel situated on Prad?d mountain (hotelpraded.cz) in the North Moravian range called Jeseníky will offer you an exquisite view of snowy mountain panoramas.
Spa Romance
Pamper yourself in one of the Czech spas on St. Valentine's Day! Many hotels in spa town of Františkovy Lázn? (lazne.relaxos.cz) offer wellness packages, such as Spa House Fortuna. A special Valentine's Day wellness package with chocolate and honey massages has also been prepared for the guests of the Krivá? Hotel (hotelkrivan.cz), situated in the spa town of Mariánské Lázn?. A number of relaxation and wellness stays for couples are also offered in hotels in the town of Luha?ovice (lazneluhacovice.cz), located in East Moravia. A St. Valentine's Day relaxation programme full of massages and spas is offered for couples in the hotel of "Záme?ek", situated in the Central Bohemian spa town of Pod?brady (lazne-podebrady.cz). Nevertheless, these are just a few examples that might captivate you - you will find a full list of spa towns in the Czech Republic offering therapy and wellness stays at spas.cz.
Saint Valentine's Day in Prague and UNESCO Towns
Mysterious places in the historical part of Prague (praguewelcome.cz) are perfect for romantic strolls hand in hand. Local cafés or a romantic boat cruise on the river Vltava will also charm you. In case you prefer smaller towns, visit the picturesque town of ?eský Krumlov (ckrumlov.cz), situated in South Bohemia. Its unique chateau complex registered on UNESCO's world heritage list will definitely fascinate you, as well as its amazing lanes.
For romantic souls, we recommend visiting the so called "Moravian Venice", which is a nickname for the beautiful town of Tel? (telc.eu), located on the border between South Bohemia and the Czech Moravian Highlands. Its fairytale character has been appreciated by a number of film directors, Italian masters of architecture as well as UNESCO.