Inca trail permits a 'Lottery' says KE Adventure Travel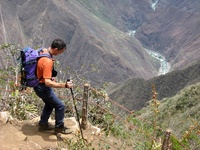 Inca Trail Permits for March will be put up for sale on the 1st of February, those for April on the 4th of February, those for May on the 7th of February and so on. This year the INC has decided to hold a 'lottery' to decide which local operators will get access to permits first (and second and third etc) for each month.
Permits will inevitably sell out in due course, and the best way to be sure of getting your permit is to book your chosen holiday as early as possible.
Another way to avoid disappointment is to book a holiday in the Cusco region that doesn't involve going into the area covered by the Inca Trail Permit. You can still include a visit to Machu Picchu itself and many of KE Adventure Travel's unbeatable selection of Peruvian holidays do just that.
The Choquequirao to Machu Picchu is the perfect example, combining Peru's two premier Inca archaeological sites and a superb trek off the beaten track. The brand new Quillarumi Trek is a short and relatively easy adventure holiday that provides a real alternative to the Inca Trail, whilst the Vilcanota and the Sacred Valley for Connoisseurs holiday, with its comfortable hotel and lodge accommodation, provides an insight into the culture of a rarely visited corner of Peru.
Going back to those 'key dates', for which Inca Trail Permits will rapidly sell out. One such date is of course the centenary of Hiram Bingham's 'rediscovery' of Machu Picchu. The date of this centenary has been set for 7th July and Peru is gearing up for a mega media event, with the Peruvian writer and recent Nobel Prize Winner Mario Vargas Llosa taking part, along with the celebrated Peruvian tenor Juan Diego Florez. The details of this event have yet to be finalised, but it is known that such notable celebrities as Sting, Paul McCartney and Bono having been approached to put in a headlining appearance.
For details of Peru holidays go to: keadventure.com