New DAF for firm that is interwoven with textile trade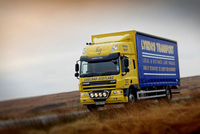 Few transport companies can be so entwined with a single industry as much as Lynda's Transport of Huddersfield is with the textile trade. It moves material through every stage of production from raw wool to the finest quality finished worsteds and has done so since the firm was formed by Lynda Porter over 30 years ago.
Now an upturn in the trade has led to a new DAF joining the 11-vehicle fleet. As well as carrying materials between weavers, dyers and finishers throughout West Yorkshire, it is making twice weekly forays into Scotland to serve the tartan manufacturing industry in the Lowlands and as far north as Elgin.
The truck is an 18 tonne CF65 rigid built to a high spec that includes DAF's Space cab. Driver Mark Wadsworth enjoys its generous headroom, good cross cab access, and a comfortable bunk underneath which is a 45 litre fridge. There's a powerful night heater, an electric roof hatch, and a high quality radio/CD player with six speaker system to provide entertainment when resting or at work.
"I know from my own driving days how important it is to ensure that drivers can enjoy some extra comfort and get a good night's rest," says Colin Porter, son of Lynda and Donald, and the man now running the family business.
"In particular the ability to stand up fully when getting dressed and moving around is really important," he says. "And even the tallest person can do that in this big DAF cab as well as having plenty of space to store clothing and other personal gear. It's a real home from home!
"The extra height of the cab also means that we only need a small air deflector on the roof to match the gap to the top of the body. It also looks great and I'm confident that this level of specification will contribute to a better residual value when I move the truck on in a few years time."
The appearance of the cab is further enhanced by the specification of 'Sky Lights' faired into the corners of the roofline, combi lights in the bumper, a full width sun visor and a pair of air horns, all of which were factory fitted. These have been supplemented by a grille-mounted stainless-steel lighting bar with four powerful spot-lamps. The name 'Flying Scott' is emblazoned on each side of the cab at the request of Colin Porter's 12 year old son Scott.
At 250 bhp (184 kW), Mark has ample power at his fingertips at just shy of 14 bhp/tonne of power to weight and this enables him to cope easily with wind resistance on exposed parts of his regular routes, such as the M62 over the Pennines and Shap on the M6. The six speed ZF manual gearbox is well matched to the engine and provides a good spread of gears to cope easily with all conditions.
DAF dealer F&G Commercials of Huddersfield supplied the truck and will provide ongoing warranty and parts support. They also managed the bodying process through Roco Truck Bodies of Bradford who fitted the 8.58 metre (28 feet 2 inch) curtainsider body to the 6.6 metre wheelbase chassis.