McBurney renews with Scania R 480s and flagship R 730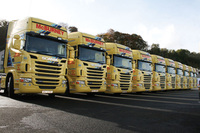 Northern Ireland's largest haulier, McBurney Transport, has taken delivery of 11 Scania R 480 LA6x2/4MNA Topline twinsteer tractor units from Larne-based Road Trucks Limited, the Scania dealer for Northern Ireland, as part of its on-going fleet replacement programme. In addition, McBurney has a flagship model Scania R 730 LA6x2/4MNA Topline tractor unit scheduled for delivery during the spring.
All plated at 44-tonnes gross train weight, the new vehicles will haul McBurney's fleet of tri-axle Gray and Adams refrigerated trailers and SDC curtainsiders on a variety of transport operations throughout Northern Ireland, Great Britain and Europe. The R 730, which features Scania's 730 horsepower 3,500Nm torque V8 power unit and as such is the world's most powerful truck, is being purchased specifically for use on the company's long distance European routes.
"There's no doubting the quality of Scania vehicles; they are excellent, reliable products which perform well in all situations," comments McBurney Transport founder Norman McBurney. "The support we receive from Road Trucks is also first class and it is reassuring to know that other members of Scania's international service network are never far away should we ever need them."
Founded in 1965, Norman McBurney began as an owner-driver with a single vehicle. Over the years the company has continually grown and expanded and today employs in excess of 700 persons. In addition to refrigerated transport and general haulage, the company offers storage and distribution services.
The firm has a second operating base in Liverpool and in celebration of Liverpool Football Club one of the R 480s sports a specially commissioned livery featuring images of some of the club's legendary players and managers from over the years.