Stagecoach commits to Scania once again in a major order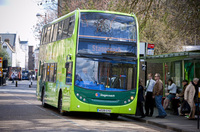 Stagecoach Group has once again opted for Scania chassis in a major order which will see a total of 141 units delivered during 2011.
Supplied by Scania (Great Britain) Limited, the order comprises 91 N230UD double-deck and 50 K230UB single-deck chassis. All vehicles will be fitted with Scania's Euro 5 EEV engine, which delivers 230 horsepower and 1,050Nm of torque, and ZF HP504 five- and six-speed fully automatic gearboxes.
Destined for Stagecoach operating companies throughout the UK, the double-deckers will be equipped with Alexander Dennis Enviro 400 bodywork and the single-deckers with Alexander Dennis Enviro 300s. The double-deckers will feature 47 seats on the upper deck, 29 on the lower and have provision for 16 standees. The single-deckers will be fitted with 43 seats, with the number of standees yet to be finalised.
"Scania double-deck chassis are well proven within our fleet and their reliability, performance and fuel economy has led us to specify them once again," comments Stagecoach Group Managing Director Les Warneford. "This positive operating experience has also influenced our choice of single-deckers and this order marks our first significant purchase of Scania single-deck chassis, which will be the first to be equipped with Alexander Dennis Enviro 300 bodywork."
For Scania, Bus, Coach and Engine Sales Director Tony Tomsett says, "This order follows Stagecoach's acquisition of Scania EEV buses during 2009/10 and is a further demonstration of our companies' shared commitment to providing passenger carrying vehicles of an extremely high environmental standard. As such, we are delighted to once again be selected as a key supplier to Stagecoach Group."