Scania increases its LGV and PCV market shares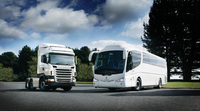 Scania has reinforced its position as a leading supplier to the British transport industry with significant increases in its truck and passenger carrying vehicle market shares for 2010.
Headline figures show that Scania's year-end truck registrations in the 18-tonnes-and-above heavy truck market increased to 17.4% (15.7% in 2009) while its combined heavy bus and coach registrations climbed to 19.5% (18.1%).
"Despite 2010 being an extremely challenging year in which volumes remained considerably depressed, these developments in our market penetration represent a positive outcome for Scania and its network in the UK. Market share is not normally regarded as a key driver for us, but for any manufacturer, securing a high share in a low-volume market is essential if the distribution and service infrastructure is to be preserved," comments Hans-Christer Holgersson, Managing Director of Scania (Great Britain) Limited.
"From our conversations with customers, we know the reasons behind our success range from product quality and performance through to the all-encompassing range of operator support services we provide today under the banner Scania Total Transport Solutions. Specifically, many operators tell us the convenience of our service – which covers all aspects of vehicle, trailer and ancillary equipment operation and maintenance and includes our ground-breaking Fixed Price Repairs programme – is a key influencer when it comes to selecting vehicles and service-partners."
"Looking ahead, we hope the confidence we saw beginning to return to the marketplace towards the end of 2010 will continue and develop through 2011 and beyond. Encouraging signs from our point-of-view include the recent announcement of major orders from Stobart Group and Stagecoach Group and the high levels of utilisation of the Scania Truck Rental fleet, which is now scheduled to increase in size by 15% over the coming months as a consequence, together the opening of two new rental locations at Heathrow and Larne, Northern Ireland."
In terms of model mix, Scania's 2010 UK truck share splits 65% articulated tractor units and 35% rigids. While the marque is a strong contender in all its wheelplan configuration sectors, it leads the market in the 8x2 rigid sector and the 6x2*4 rear-steer and 6x2/4 twin-steer sectors for both articulated tractor units and rigids.
In the 2010 UK passenger carrying vehicle market, Scania's year-end shares were 21.7% for heavy buses and 12.7% for coaches.