Black Amber - the latest limited edition truck from Scania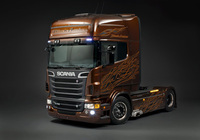 'Simply' owning or driving a Scania V8 truck is not enough for many keen truck owners and drivers, who spend untiring devotion on personalising their vehicles. For some of these fans, Scania is producing another series of special V8-powered trucks, following up on the success of the limited edition 'Dark Diamond'. Available with any of the Scania V8 outputs, the unique styling and added features have once again been developed in close collaboration with Svempas AB, the legendary Swedish styling and customising company. Although limited to 100 units, sales are intended for typical Scania V8 markets worldwide.
Amber is a hard, translucent yellowish-brown fossil resin dating back to the Tertiary geologic period on earth some 65 million to 1.8 million years ago. When found in nature, good deposits − often incorporating trapped insects − can be polished and used for example as jewellery. Black amber is a rare dark variety that serves as inspiration for this year?s limited edition Scania V8 trucks.
Kristofer Hansén, head of Styling at Scania comments: "One hundred Scania fans now get the chance to buy something very special, based on the new Scania V8 truck range. With the Svempas customising team, we have produced a design that stands out in any crowd. Whether from the outside or inside, there is no doubting the special care and attention that has gone into this limited series of trucks.
"Included in the deal, naturally, are traditional Scania V8 virtues like long-lasting performance, operating economy and durability," concludes Mr Hansén.
The Black Amber limited edition trucks are based on the new Scania V8 range intro-duced in April 2010. The vehicles are available with Scania Topline cabs. Euro 5 and EEV engines can be specified, with outputs ranging from 500 hp and 2,400 Nm up to 730 hp and 3,500 Nm on the most powerful model.
The Black Amber paintwork – in dark brown metallic – features chrome detailing and badges and matt or high-gloss black graphic accents visible from every angle.
Special high quality materials abound in the interior, including additional features that enhance comfort and a range of thoughtful touches. Numerous Scania V8 and Scania Griffin symbols will please the enthusiasts.
The vehicles in the limited Black Amber by Svempas series are each signed by Sven-Erik Bergendahl, "Svempa?, and are individually numbered from 1 to 100.