Weird and wonderful weekend breaks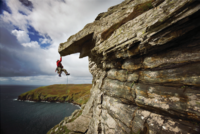 Escape the rain and the January blues with an abseiling adventure in Jersey, a whisky tasting weekend in Scotland or a kite flying festival in Cyprus.
Cheapflights.co.uk, the UK's leading website for flight search and comparison, gives travellers something to look forward to, with its Top 10 Weird and Wonderful Weekend Breaks.
"January is the most common month for experiencing a mood dip, and travel is one of the best antidotes for it," says Nadine Hallak, Travel Expert for Cheapflights.co.uk.
"Exploring new places and trying new things are two of this year's most popular New Year's resolutions, and with plenty to explore either in or not far from the UK, a much needed getaway doesn't have to cost the earth," continues Hallak.
Rollerblading in Barcelona: Already famous for its culture, food, and stunning architecture, Barcelona is also one of Spain's hotspots for rollerblading. Hosting the country's biggest skate shop, Inercia, the city offers tours and classes for all levels. Let the good times roll, literally, with flights from £59 return.
Scotland's Scotch Whisky: Known its whisky producing skills, Scotland is a great place to grab a long weekend for some of the finest whisky sampling in the world. Many specialist companies offer themed weekends around this experience, with Edinburgh being one of the more famous spots for it. Flights from £51 return.
Kite Flying in Cyprus: Celebrate the run up to Easter with a Kite Festival in Cyprus, which takes place on the first day of Lent. Known as Green Monday, the festival is marked by hitting the beaches, laying out picnics and flying kites. What could be more blissful? Set sail with flights from £79 return.
Abseiling in Jersey: Who said you couldn't keep it local and still get a buzz? Get sailing on the Jersey shore, abseiling that is. A veritable hub for the sport, sail seekers can head to St. Brelade for beautiful vistas and a multitude of activities. Flights from £88 return.
Bungee Jumping in Normandy: This seaside town full of small villages and countryside charm offers bungee jumpers an adrenalin rush juxtaposed by relaxation; the perfect combo. Get a jumpstart by taking flights to Lyon from £53 and catching a train to Normandy.
Monkey Business in Girona: Head to Girona, Spain and do a good deed in 2011 by volunteering with rescued chimps. Aside from feeding and cage cleaning, volunteers also get to spend quality time getting to know these clever creatures. Flights from £79 return.
Painting in Tuscany: Italy is one of the world's birthplaces for art and with so much beautiful scenery, it's the perfect place to combine a holiday with a love for painting. Head to the Tuscan countryside, for painting holidays filled with glorious food and some of the world's best wine. Grab flights to Florence from £56 return and drive or take a train to the countryside.
High-wire Adventure in Saalbach: Austria's Saalbach serves up one of the country's
largest high-wire forest parks. Suitable for all age groups, this invigorating outdoor adventure offers stunning scenery and a breath of fresh air, literally. Flights from £79 return.
Star gazing in Turkey: Normally a holiday hot spot for sun seekers, Turkey also hosts some of world's best astronomy tours. Star gazers can start out in Istanbul and take special tours that head around the country for some of stunning galactic vistas. Flights to Istanbul start from £86 return.
Get Spooked in Jersey: The UK's hidden adventures are never-ending. Ghost chasers who like to receive their adrenalin rush in the form of a fright can head to Jersey where ghost tours pack a real spook, and cost as little as £5. Flights from £88 return.
To search and compare flights to these and other destinations, visit: cheapflights.co.uk