Tower of sound - iPhone/iPod dock clock with DAB radio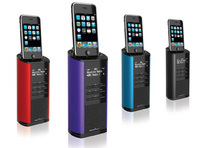 The Tower is perfect for any iPhone/iPod owner. The new sound system from MagicBox will charge and play music from the latest iPhone and iPods, and has a DAB/FM radio with pre-sets and an alarm clock.
Despite its towering name, the Tower is a compact system (standing at only 15cm high and 8cm wide), that won't take up much space in a room, but will pump out enough sound to fill it!
Funky and functional the Tower will not only play and charge at the same time, the latest iPhones and iPods, its built-in alarm clock will also provide any deep sleeper with their favourite wakey wakey sounds from the iPod, DAB/FM radio or buzzer.
The aluminium casing gives it a soft touch and quality feel, and with a selection of funky metallic colours, the Tower will look good in any room of the house where space is at a premium.
MagicBox believe the Tower will not only hammer out the hits but will be a big one in its own right. Coming in metallic red, purple, blue or black.
Available at £69.99, visit: comet.co.uk.