Mitsubishi donates L200 Barbarian to National Star College Charity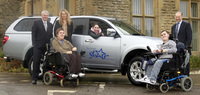 Mitsubishi Motors in the UK has donated a brand new L200 Barbarian worth £27,383.00 (including accessories) to The National Star College which is the company's chosen charity for 2010 and 2011.
Based in Cheltenham, Gloucestershire, The National Star College helps disabled students achieve their dreams through educational support and independent living. After a £15.4 million Government funding grant for a new building fell through, the vital needs of the students were put under pressure. After visiting the National Star College, Mitsubishi Motors in the UK boss, Lance Bradley decided to help to raise the funds required for a much needed sensory room by launching a National Star Charity programme within Mitsubishi UK.
To date, Mitsubishi staff have taken part in several challenges to raise funds for the college from sponsored football matches, walks, bike rides and golf days to auction dinners and quiz nights.
Lance Bradley, Managing Director of Mitsubishi Motors in the UK said: "We are proud to support and be a part of the National Star College fund raising vision. Since the early part of 2010 we have raised a staggering £25,000.00 towards the needed facility developments. The team at Mitsubishi will continue to generate ideas and take part in challenges to help the college raise the £75,000.00 that they need for the completion of a sensory room"
The College has had difficulty transporting key personnel to and from the College in the bad weather experienced over the past two winters. Having a 4WD vehicle will not only be extremely useful when it snows, but it will also be used for maintenance works around the college and grounds.
Hugh Piggott, Director of Corporate Services at National Star College, said: "We are overwhelmed with the donation of the truck from Mitsubishi. We really struggle in bad weather up at College and the truck will provide us with a lifeline to get staff in and out of College. As a residential College with students with severe disabilities it is essential that we have a way to ensure staff can always get into work and the pick-up truck will help enormously with this. It will also be a much needed addition to the maintenance team to assist them with their work across College."
The college still needs £750,000 in order to complete the much needed building work around the grounds. If you require any more information about the project, how you could become involved in fundraising or would like to donate, please log onto their website – starappeal.org