Ford S-MAX seals its fifth BusinessCar Award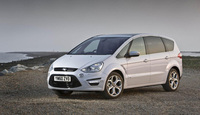 The Ford S-MAX is celebrating its fifth BusinessCar Multi-Purpose Vehicle (MPV) of the Year award.
Ford's stylish and flexible seven seater, refreshed inside and out last year, again impressed BusinessCar jurors, readers of the magazine and viewers of its website.
BusinessCar editor Paul Barker said: "Ford's S-MAX has proved that family transport doesn't have to be bland to look at nor boring to drive, and the readers of BusinessCar obviously agree. The recent changes to the S-MAX further enhanced its appeal in the corporate marketplace, and this BusinessCar MPV of the Year Award reflects the high esteem in which the car is held."
Kevin Griffin, Ford Britain fleet director, welcomed the award: "Ford S-MAX's run of wins at the BusinessCar awards is testimony to a car which has redefined the MPV segment. Almost 50,000 UK motorists agree with BusinessCar and have bought one for themselves. BusinessCar Awards makes the success of the S-MAX particularly gratifying because it is a clear reflection of the opinions of the market."
Ford's smooth and economical six-speed PowerShift automatic transmission debuted in the S-MAX last year, and is now available with a 1.6-litre 115PS diesel engine with Auto Start Stop as standard producing only 139g CO2/km and returning almost 50mpg (extra urban). A new premium 2.2-litre TDCi variant boasts 200PS, while returning 42.8mpg and emitting 174g CO2/km.
BusinessCar offers information essential to fleet managers, finance staff, managing directors and other top managers wanting to understand the issues central to running car and van fleets. BusinessCar magazine has a readership of more than 18,000 industry bosses with responsibility for running business cars.