K College students begin Caterham Seven build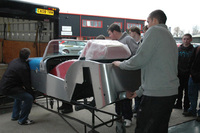 BTEC Motorsport students at K College in Kent will build a Caterham Seven from scratch during the next 6 months as part of their motorsports programme.
The 13 students, aged between 17 and 25, took delivery of the iconic British sportscar in kit form last week and will be building the car as part of their coursework for the level three diploma.
The scheme at K College is also being used as part of a rewards programme to help inspire the foundation and level 2 BTEC students.
Caterham has run similar initiatives at 13 schools around the UK over the last four years, helping to give students a 'real world' understanding of Physics, Science, Maths, Engineering Design, Business and Marketing skills.
Students take delivery of the Seven in component form and build the lightweight, open-topped cars from the ground up.
Nick Aldridge, Learning Manager, who leads the initiative for the Caterham project at K College, explains: "In the past, it has been difficult to motivate our lower-level learners to complete their skills lessons in Maths, English and ICT. This project will help to encourage the students' creative writing and their maths ability. With support from Caterham, we feel this rewards scheme will prove to be a huge success for both the students and the college."
Andy Noble, Sales & Marketing Director at Caterham Cars, said: "It's good for students to find a passion for a subject and we are really pleased to be able to offer our support in giving the students real life, hands-on experience.
"Caterham has always been about experiencing the cars, not just looking at them, so I hope these young people can take that away with them after constructing the car and become lifelong fans of our brand."