Discover Copenhagen's romantic gems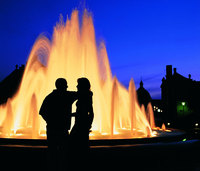 The symbol of Copenhagen is the Little Mermaid, known and loved by all from Dane Hans Christian Andersen's romantic fairytale. This is indeed proof that Danes are real romantics at heart and that 'Romantic Denmark' is something you and your loved one can also experience in its capital.
What can be more romantic than strolling through a city, hand in hand discovering a new place together? This is easy to do in the Danish capital. First of all, Copenhagen is just around 90 minutes away by air, giving you lots of time to explore this fantastic city. The city is compact with just around 1 Million inhabitants and most sights can be reached on foot from your city centre hotel. With Valentine's day falling on a Monday this year, it makes it just the perfect time for that Romantic long weekend away.
Let candles set the mood
The tiny streets and alleyways around main street Stroget, is the best place for shopping for local designs, fashions and crafts. You will soon notice that everybody uses candles everywhere; in windows, on tables and even outside on the pavements just to create that perfect atmosphere. Danes know about candles and the positive effects of candle light, so why not buy some Danish designed candle holders to bring home as the perfect souvenir?
Cupid's arrow
A hot chocolate with a heart shaped cake in one of the many cosy cafes will set you up for a visit to one of the most fascinating museums in the city; Thorvaldsen's. This museum opened in 1848 and is a dedication to the works and collections of Danish sculptor Bertil Thorvaldsen. The highlight for your visit will be to stand before the work named 'Cupid and Psyche' and as you might know, Cupid is the god of love and this mischievous little archer has the power to send his arrow through the intended's heart, making him or her fall in love with you...
Hand in hand
A stroll in the park is another favourite for lovers. Head for the waterfront by Amalienborg Royal Palace as at this tiny Amalienborg park, you find a magnificent large fountain and sculptures but most of all, from here you will have an amazing view across the water to the new Opera House. If the mood takes you, you may wish to stroll along further to see the Little Mermaid herself sitting on her rock or if music is the food of your love, book the seats for a night at this outstanding Opera house or at one of the many great music venues in Copenhagen.
Steamy atmosphere
For warming up, there can be no better place than the glorious winter garden inside the Carlsberg Ny Glyptotek. In this steamy atmosphere you can admire huge palm trees reaching for the light coming in from a glass domed ceiling and spreading across sculptures and water features in this splendid museum, housing Danish and international works. This is a truly Romantic setting in an arty atmosphere.
'Love Seats'
A date often involves a trip to the cinema. In Copenhagen, at no less than three cinemas; the Empire, Falkoner and Metropol can you enjoy the benefits from purpose built 'Love Seats' right at the back. These are seats are made for two with plenty of space.
Gaze at the stars
There are no Love Seats at the Planetarium sadly but nevertheless, this is the place to sit and stare and the stars. Even on a cloudy day you can look at the awesome 1000 square meter domed screen, showing the never-ending movements of planets and the universe.
A romantic meal for two
Take the lift up to the 20th floor of the SAS Royal Hotel, from where you have the absolute best view of the capital. The hotel, designed by Arne Jacobsen, has just celebrated its 50th year as northern Europe's first true designer hotel. A perfect end to a perfect day.
It starts here though:
For all information on travelling to Denmark: visitdenmark.com
For flight bookings: flysas.co.uk SAS Scandinavian Airlines offers direct flights from Aberdeen, Manchester, Birmingham and London Heathrow - flight time is less than two hours
For a wide choice of accommodation: choice.dk and arp-hansen.com