Fleet development provides perfect home for mother and daughter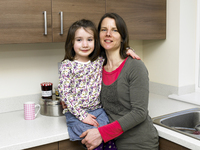 Katie Mierins, 40, and her daughter Freya, 4, have just moved into their new two-bedroom house at the much anticipated new affordable development called greenacres in Fleet.
Katie has been looking to move since April 2008 after splitting up with her partner, but prior to greenacres, there was a lack of affordable housing in the Hart district.
"After a difficult couple of years, the most important thing for me was to maintain stability and comfort for Freya. I didn't want to move away from Fleet as our friends and support network are all here. Also, I am self-employed, running a gardening business for the elderly, and wanted to keep this going without losing my clients," explains Katie.
"I knew about shared ownership, but there really wasn't anything suitable in Fleet. Once I registered with my local HomeBuy agent I found out that the greenacres development was being built and would be available through Thames Valley Housing. The rest, as they say, is history; everyone was incredibly supportive at Hart Housing Services and beyond. The Thames Valley Housing sales team was particularly helpful and compassionate throughout the whole process, demonstrating their goal to help those who cannot afford to purchase a new home on the open market."
"I have been waiting for this development to be built and now it is well on its way, it has really lived up to all my expectations. It is absolutely perfect for children, with the 84 acre country park right on the doorstep, excellent primary and secondary schools close by and the Hart Leisure Centre opposite, which Freya goes to for swimming," adds Katie.
"We have one of only 3 two-bedroom houses at greenacres, which comes with two bathrooms, a kitchen and living room which leads out to the garden. We are really looking forward to seeing the community develop here and cannot wait for spring so we can go walking in the country park."
Katie bought a percentage of her new two-bedroom house with a full price of £265,000. She intends to 'staircase' (increase her percentage ownership) in the future.
Councillor Ken Crookes, leader of Hart council, said: "We are extremely pleased that 40% of this new development will be available as affordable housing, with 56 shared ownership units. Stories like Kathryn's are the reason why it is so important to make home ownership successful for people with a local connection to the district."
Properties at greenacres include one and two-bedroom apartments and two-bedroom houses. Each home will have carpets and flooring throughout, high quality integrated kitchens with a fridge/freezer and washer/dryer and allocated parking. Some apartments will have private balconies. Energy will be supplied by centralized Biomass technology, which is designed for maximum efficiency to keep the energy bills low.
The new homes at greenacres have the exceptional benefit of backing onto a new 84 acre country park with a variety of diverse environments, from woodland to meadowland and wetland with ponds and streams, all connected by a network of footpaths and cycle ways. Other features include an amphitheatre that will host outdoor events throughout the year.
greenacres is the culmination of a unique vision from award-winning architects John Thompson & Partners, the local authority and Berkeley Homes. The homes are inspired by the American arts and craft movement which gives them their 'New England' style. The high-quality build and design of the properties have been proven to stand the test of time whilst having a contemporary look and feel.
Though in a rural location, greenacres is only 1.5 miles from Fleet town centre, which offers a wide choice of leisure and retail facilities including a traditional high street, a covered shopping centre and three supermarkets close to hand. Fleet station just over a mile from edenbrook with direct trains to London Waterloo in under 40 minutes, while the M3 (Junction 4a) is only three miles away.
Prices at greenacres start from £39,375 for a 25% share in a one-bedroom apartment priced at £157,500.
All the properties at greenacres are available through the New Build HomeBuy part-buy, part-rent government-led initiative, aimed at helping first time buyers, and those looking for help to buy their own home, get on the property ladder. To apply for this scheme, purchasers need to have an annual household income of between £18,000 and £60,000 and work or live within the Hart district. Interested applicants can register with their local HomeBuy Agent.
The main objective of Thames Valley Housing is to get people living in their own home in an affordable way. They are dedicated to providing the best possible customer service experience, from enquiry, to meeting, all the way through to purchase point and beyond. To read about past buyers' experiences of shared ownership properties, please visit: homebuy4u.co.uk
For more information on greenacres or other HomeBuy schemes, please visit: homebuy4u.co.uk