All-new Ford Focus en route to UK dealerships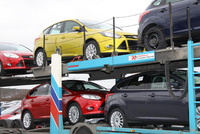 The all-new Ford Focus is on its way to Ford dealership showrooms in preparation for next month's sales launch.
The first consignment of 2,500 of the stylish new car left the company's Saarlouis plant in Germany last week. Shipments have since averaged 1,000 vehicles a day, but will increase to a daily total of 1,450 later this month.
The majority of the first production run of the Ford Focus – all five-door models – are destined for UK dealerships in time for the market's March registration plate change, which produces one of the largest sales months of the year in Europe. Over 70 per cent of the cars being shipped to the UK are high-series Titanium models.
"Now that the first all-new Focus models have left the Saarlouis plant on schedule and with the highest levels of quality, deliveries to the wider European market will soar," explained Horst Ritze, Ford's Material Planning and Logistics manager. "We currently have 12,000 cars in the pipeline for release to markets across Europe."
"We are seeing very strong demand building up for the new Focus," said Roelant de Waard, European vice president, Marketing, Sales and Service. "It's a great looking car loaded with a host of advanced technologies such as Low Speed Safety, which reduces the risk of low-speed collisions; Lane Keeping Aid to stop drifting across lanes, and Active Park Assist – which makes parallel parking a breeze."
"Add to this outstanding driving dynamics and impressive fuel economy delivered by our new range of EcoBoost petrol engines and our Duratorq advanced diesel engines, and you have a car that we believe is unbeatable in its segment and that will appeal to existing and new Ford customers right across Europe."
"You can tell immediately you drive it, that this takes Focus to a new level," said Philip Maskell, chairman and managing director of Essex Ford dealership group. "Ford has taken all of its key models to best-in-class, which is really exciting for us. The technology in the new Focus is sensational and the car is a big leap forward."
A car for the world
The all-new Focus was designed In Europe to be a truly global car and will be sold in 120 markets around the world. In addition to Saarlouis, the model is also currently in production in Michigan, USA. Production commences in Ford's St. Petersburg plant in Russia later this year.