Mitsubishi appoint new dealerships in Carlisle and Workington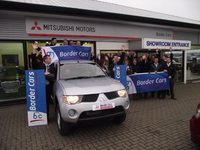 Mitsubishi Motors in the UK is pleased to announce that existing dealer Border Cars in Dumfries is also about to represent the franchise in Carlisle and Workington. The latest additions to Mitsubishi's 120 strong dealer network will now provide Mitsubishi sales, service and parts for all of Cumbria and South West Scotland.
The Carlisle site, based on Kingstown Broadway will be the first to 'go-live' and will open for business on 14th February 2011. The Mitsubishi site in Lillyhall, Workington will be launched slightly later in March.
Border Cars are a very successful motor retail group and will soon have Mitsubishi sites in Carlisle, Workington and Dumfries. Since the company was established in 1977, Border Cars' growth has been a success story. Open 7 days a week, Border Cars pride themselves on providing a high quality service to customers where their main philosophy is to "treat customers and visitors the way you would expect to be treated yourself".
Owner Mike Fusco said: "We are delighted to be adding this new franchise to our existing range. Border Cars already has the Mitsubishi brand at our Glasgow Road dealership in Dumfries so it's great to be able to extend it to Carlisle and Workington. We look forward to welcoming existing and new Mitsubishi customers to our dealerships at this very exciting time."