Dame Kelly Holmes tries sandboarding in Abu Dhabi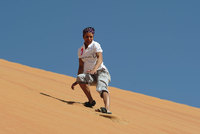 Multi-gold medal winning Olympian, Dame Kelly Holmes, swapped her running shoes for towering dunes as she tried her hand at sandboarding in Abu Dhabi's vast Rub' Al Khali (Empty Quarter) - the world's largest expanse of unbroken sand, equivalent in size to France, Holland and Belgium combined.
While in Abu Dhabi city, the capital of the United Arab Emirates, for the Laureus World Sports Awards ceremony, Holmes headed for the Liwa desert - the Rub' Al Khali gateway, two hours away. Joining Holmes on the sandboarding adventure were international skateboarding legend Tony Hawk, Australia's seven-time surfing world champion, Layne Beachley and Taig Khris of France, the X-Games winning in-line skater. Khris recently broke the world record for the highest roller skate jump after dropping 131ft from the Eiffel Tower's first floor onto a massive vert ramp.
Also getting in on the action were Germany's Jan Frodeno, who took top triathlon honours in the 2008 Beijing Olympic Games, and Australian Emma Snowsill, the 2008 Olympic triathlon gold medallist.
As guests of Abu Dhabi Tourism Authority (ADTA), the sporting legends strapped up their bindings to tackle Liwa's 300-metre high dunes - similar to a 60-storey skyscraper and some of the largest sand dunes on the planet.
Dame Kelly Holmes remarked: "I'd never done anything like this before. I certainly wasn't a sandboarding natural to start off with but I got there. It is pretty amazing that one moment you are in a modern city and then only a short distance away you can be in this vast rolling desert. I'd love to come back especially as now I've got the hang of this, I'll be giving the other guys a run for their money". Holmes is a Laureus Ambassador who won the 800 metres and 1,500 metres Olympic gold medals in Athens in 2004.
Hawk, a Laureus Academy Member and pioneer of the '900', a two-and-a-half mid-air turn which changed the face of skateboarding, was well at ease on the golden dunes, making the transition from concrete to sand seamlessly.
"It was fun and a challenge. I never thought of sand as a surface you could ride on, so I was really surprised that we got so fast. It was daunting standing on top of these huge dunes pondering going straight down, which I didn't expect. Being out in the desert and in the dunes was what I had pictured when coming to Abu Dhabi and it is amazing to be out here away from the norm," said Hawk. Through his Tony Hawk Foundation, Hawk promotes and helps finance public skate parks in low income areas.
"This was like a present, being taken out to this amazing desert and being allowed to try something new like sandboarding. I had a great time and we really got some fast speeds going down these huge dunes. This was a new experience for me and one I hope to definitely do again," said Khris, who got the fastest run of the day at 45 kilometres per hour, beating Hawk by a fraction.
In sight of the stunning five-star Qasr Al Sarab Desert Resort by Anantara, the Laureus stars also took time to sample Abu Dhabi's famed hospitality, drinking traditional Arabian coffee and meeting the local Emirati Bedouin in the Empty Quarter, which is also known for the 'Za'eeq al Raml' or 'shouting sands' phenomenon. Only experienced in a handful of other places in the world, it is a remarkable feat of nature to witness as the rolling dunes appear to 'moan' as they shift in the wind.
The Laureus World Sports Awards, which recognise sporting achievement, are the premier honours on the international sporting calendar. The winners, as voted by the Laureus World Sports Academy, made up of 46 of the greatest sportsmen and sportswomen of all time, were unveiled in a globally televised ceremony at Abu Dhabi's opulent Emirates Palace hotel.
The Laureus World Sports Awards is returning to Abu Dhabi thanks to the support of Aabar Investments PJS, who are once again host partner for the event.
Aabar Investments PJS is an investment company headquartered in Abu Dhabi. It invests in various sectors including aerospace, real estate, automotive and financial services. Its largest stakeholder is the International Petroleum Investment Company, which is wholly owned by the Government of the Emirate of Abu Dhabi.
Proceeds from the Laureus World Sports Awards directly benefit and underpin the work of the Laureus Sport for Good Foundation, which supports 83 community sports projects around the world. Since its inception, Laureus has raised over €40 million for projects which have helped to improve the lives of more than 1.5 million young people.