All-new Ford Focus on first public display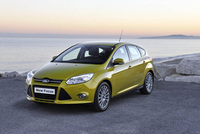 Essex shoppers will get the UK's first public glimpse of the new Ford Focus when it goes on display at Lakeside next week.
The retail park in Thurrock will display Ford's exciting new model in its Debenhams flagship store for four days from February 17.
Lakeside visitors will be introduced to the new Ford Focus almost two weeks before its national on sale date of March 1, which coincides with the new "11" registration plates.
First shipments of the all-new model destined for dealerships are arriving this week. Ford will prioritise the pre-delivery inspection of the five-door, candy yellow-coloured 1.6 diesel Titanium model ready for its Lakeside debut.
Jon Wellsman, Ford Britain sales director, said: "UK motorists are eagerly awaiting the arrival of the new Ford Focus, replacing the model which was top selling car for 10 years. Essex is the Ford brand's spiritual home, so putting our newest car on display to Lakeside shoppers will please our local Ford fans."
An estimated 7,500 people will visit Lakeside on each day the new Ford Focus is there.
Priced from £15,995, the car is loaded with hi-tech features including automated parallel parking, a lane keeping aid to keep the car in between lane markings and traffic sign recognition, which displays the last speed sign passed on the instrument panel.