Istanbul sees 28.5% increase in foreign tourist arrivals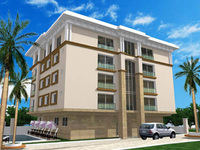 Voted Europe's number 1 city for property by Price Waterhouse Coopers, Istanbul was one of the most active and prosperous global property markets in 2010. And with the latest official data revealing a 28.5% increase in tourist arrivals this January, all eyes remain fixed on the city where east meets west in 2011.
According to official figures from the Turkish Culture and Tourism Ministry Istanbul, the number of foreign tourist arrivals for January increased by 28.5% from 294,352 in January 2010 to 378,380 last month placing increased pressure on already saturated accommodation stock.
Due to its strategic location, Istanbul attracts visitors from all over the world with Germany topping the list in January, followed by Russia, Italy, Iran, Britain and the US. The economic powerhouse of Turkey, which has recorded strong economic growth rates averaging 7.5% over the last 5 years, can currently be accessed by three existing airports (Ataturk, Sabiha Gokcen and Karakoy) which have seen continued growth in passenger numbers and a new international airport, the largest in Turkey, is planned for the western suburbs.
Steven Worboys, MD of Istanbul property experts Experience International, comments, "Istanbul presented some of the most successful property investment opportunities for our clients in 2010. We at Experience International identified the key fundamentals of limited supply and massive demand at play in the city and it comes as no surprise that Istanbul's property potential has now been recognized by over 600 real estate experts in the recent Price Waterhouse Coopers survey."
Demand for quality accommodation in the city both to meet increasing numbers of visitors and the influx of economic migrants shows no signs of abating with the market moving fast and new off-plan developments with secure rental returns proving particularly popular. Phase 1 of one residential development, The Hamptons, located in the burgeoning western suburb of Beylikdüzü was all but sold out within weeks of launch and only a handful of studio and 1 bedroom luxury apartments remain.
Being sold off-plan The Hamptons offers superb value for money with studio and 1 bedroom apartments available from £33,000 complete with a choice of views over the mighty Bosphrous or the city centre, communal swimming pool, gym, sauna, shops, parking and landscaped gardens. Built by one of the most established developers in Istanbul, The Hamptons is due for completion ahead of schedule in August 2011 enabling investors to start receiving their 7.5% rental guarantee (fixed for 2 years) in six months time.

With real estate experts predicting that property prices in Istanbul could double or even triple in 5 years time, significant capital appreciation can also be expected on buy to let investments such as The Hamptons. As Steven Worboys concludes, "Istanbul should be on any savvy buy to let investors' radar in 2011. Follow the experts and capitalise on the massive demand for quality housing in the city, low entry levels, up to 75% non-status finance and protected rental income - now is the right time to invest."
For more information about investing in Istanbul and indeed the last units remaining at The Hamptons, visit experience-international.com.