Homebuyers flock to Harbour Village in Fleetwood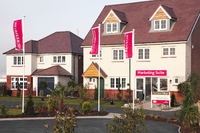 Homebuyers in Fleetwood have been flocking to Harbour Village to see inside two new show homes.
Redrow has been selling properties at Harbour Village 'off plan' since the summer, but up until now purchasers have had to rely on floor plans or visit nearby developments in Chorley to appreciate the layout, quality and finish of the designs. But now that two show homes are open for viewing in the seaside town, potential purchasers can truly experience what life would be like at Harbour Village.
Lesley Myers, area sales manager for Redrow Homes (Lancashire), commented: "We have seen a renewed level of interest in Harbour Village following the opening of the show homes, with increased visitor numbers and a flurry of sales. Echoing our findings in consumer research, the recent sales success we have seen shows that while some people have the confidence to buy 'off plan' others prefer to wait until they can view a show home before making a decision. As well as the four firm sales, we're also working with a number of potential purchasers who want to take advantage of incentives such as HomeBuy Direct and Mastermove."
Inspired by the coastal location of the development, Redrow's team of professional interior designers have dressed the four-bedroom 'Windsor' in sandy colours with touches of gold; while the three-bedroom 'Kenilworth' has a nautical theme.
"The two properties are really quite impressive and we've had lots of positive feedback from visitors who have been pleasantly surprised at what's included," Lesley added.
"The kitchens have been particularly popular as they're practical and stylish with the convenience of integrated top brand name appliances. People just love the amount of storage the floor to ceiling units and extra wide drawers offer. Our bathrooms and en-suites also have that 'wow factor' with quality fixtures and fittings, plus an exclusive tile range."
Prices at Harbour Village start from £172,995 for a three-bedroom 'Tetbury' style home.
The Government-backed HomeBuy Direct scheme is available on selected properties, which means eligible customers could find that home ownership is more affordable than they realised. With HomeBuy Direct certain groups of customers could find themselves catapulted onto the property ladder for an initial outlay of just £121,096.
HomeBuy Direct enables those with a household income of less than £60,000 to take out an equity loan for up to 30% of the price of a brand new home. Jointly funded by Redrow and the Homes and Communities Agency, the loan is interest-free for the first five years and can be repaid when the customer has more funds available or they come to resell.
Those who are looking to make their next move on the property ladder may be able to benefit from Redrow's Mastermove service.
"With Mastermove we can support customers by working with local estate agents to sell their existing property. We'll monitor the agent's activities and progress and even pay their fees at the end of the day," Lesley explained.
To experience all that a brand new Redrow home has to offer, visit Harbour Village in Amounderness Way, Fleetwood, where the show homes are now open Thursday to Monday from 10am to 5.30pm.