Tenerife uses social media to attract UK tourists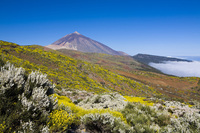 Tenerife, the largest island in the Canaries, is utilising social media networks to interact with UK holidaymakers and introduce the island's beauty, culture and attractions to potential first-time and returning travellers to the "Island of Contrasts".
A Facebook page launched in January 2011 has secured over 1,000 fans in four weeks and generated over 30,000 post views so far. The page has also been seen by over 300 potential travellers who have actively engaged with the site and interacted with other would-be visitors, as well as with representatives of the Tenerife Tourism Corporation.
As well as the opportunity for consumers to find out further information, post videos and images, and ask questions, the Tenerife Facebook fan page is offering one lucky family the chance to win a luxury holiday to Tenerife in just 30 seconds. To enter, visitors simply need to "Like" the new Facebook page to be in with the chance of winning the magnificent prize, which includes return flights with Monarch for two adults and two children (under the age of 12); seven nights' accommodation at the luxurious Sheraton La Caleta Resort and Spa; and four tickets to Siam Park, one of Europe's largest and most exciting water theme parks.
This is just one of the latest ways the Tenerife Tourism Corporation is using social media platforms to engage with UK holidaymakers. A newly-created Twitter stream and YouTube site are effectively driving visitors to the new Facebook fan page, which is essentially regarded as the microsite for Tenerife's social media campaign. Both sites are heavily promoting the family competition on Facebook and the new YouTube channel even features an endorsement from the President of Tenerife himself!
In addition to Tenerife's family competition and latest news, the island's new social networking sites are also greatly publicising the Tenerife Carnival - the world's second largest carnival - which is now taking place in the capital city of Santa Cruz until 13th March 2011. To further increase the presence of the Carnival - and Tenerife - in the social media arena, later this month the Tenerife Tourism Corporation will be hosting a small group of UK bloggers and broadcast journalists on a press trip to experience the Carnival's dazzling array of high octane street parades, live musical performances, breathtaking dance acts and more. Video coverage from the Carnival will be uploaded on YouTube and featured online elsewhere.
All social media sites encourage visitors to become friends of Tenerife and interact in discussions on their experiences on the island.
To further explore the Tenerife Tourism Corporation's social networking outlets, see:
Facebook:
facebook.com/visittenerife
Twitter:
twitter.com/visit_tenerife
YouTube:
youtube.com/visittenerife
For general tourism information on Tenerife, please see: webtenerife.com