See Whiskey Jack at The Granville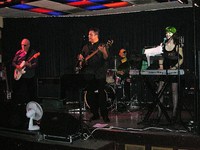 The Granville @ Barford is to welcome an exciting new band to perform at the award-winning dining pub on Sunday 27 March from 8:30pm.
Whiskey Jack will be belting out popular covers from Rock 'n' Roll, right through to the 80's and are already proving to be a highly popular and successful local band. As with all live music nights at the Granville, admission is completely free of charge!
The four piece band consists of Ellie on vocals & keyboards, Steve on vocals & bass, Eddie on vocals & lead guitar and Dave on vocals & drums. Steve has played with the award winning Midlands band 4More, Dave has played with the excellent Phil King & The Royals whilst Eddie previously played with the legendary local band Out of the Blue, one of the Granville's favourite bands.
Val Kersey, Proprietor of The Granville, stated "We're delighted to welcome Whiskey Jack to the Granville which will no doubt be a massive hit with the crowds. We have a number of local talented bands lined up to play this year which I'm sure everyone will enjoy!"
The Granville @ Barford is situated 1 mile from the M40 at junction 15 on the A429 sign-posted to Stow-on-the-Wold. Please visit the website at granvillebarford.co.uk for further information.