Saab announces sponsorship of The Nomad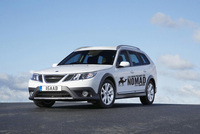 Saab has announced their sponsorship of a brand new cinema experience: The Nomad – Driven by Saab.
The Nomad is an exciting, roaming pop-up cinema experience that is set to tour 150 locations across the UK. Having perfected the art of 'cinema al fresco', the Nomad will be showcasing an eclectic selection of films, ranging from classics to cult, noir and silent to mainstream guilty pleasure films, screenings will be held in beautiful and unexpected locations both in-door and out, from castles and abbeys to theatres, ballrooms and country house estates.
As part of the package, developed and negotiated by Carat Sponsorship via Pearl and Dean, Saab will also be showcasing a series of themed film events, bringing to life and celebrating its ethos of Independent Thinking.
The Nomad's first cinema viewing will take place in Stevenage on 13th March. Visit whereisthenomad.com for more details. The Nomad cinema experience immerses audiences not only in the film but adds elements of theatre, music dressing and performance and this year's nationwide tour is expected to attract more than 130,000 film lovers. Carat Sponsorship and Saab GB will be working closely with The Nomad to jointly market these events using a variety of traditional and more unconventional promotion.
Andy Biernacki, National Communications Manager at Saab GB said: "Saabis delighted to support The Nomad pop-up cinema adventure in 2011. The Nomad is an exciting and engaging new way to experience cinema and sits well with Saab's own culture of challenging convention, so we're pleased to be involved in this innovative new venture.
He continues: "We're currently in the middle of the biggest product offensive in our history with more new products set to launch over the next twelve months, as we continue to build brand momentum. The Nomad provides a great platform to reach a targeted audience."
Sally Wilton and George Wood, co-founders of The Nomad said: "We're delighted to welcome Saab as headline sponsor of The Nomad.
"The Nomad is a roaming pop-up cinema experience, dedicated to creating carefully crafted, inspiring and powerful film events, high impact aesthetically, low impact on the environment– we couldn't think of a more suitable partner than Saab.
We've been really impressed with their commitment to supporting our adventure, and their commitment to having a little bit of fun along the way!"
Joe Copeman of Pearl & Dean said: "We are very excited to be able to announce the headline sponsorship of such an exciting property. Both Nomad & Saab share very similar brand values, making them the perfect partners. This is exactly the type of new opportunity that Pearl & Dean embrace and are delighted to work with Nomad & Saab to push cinema into new and exciting places."