Ford Focus and Fiesta top market for the year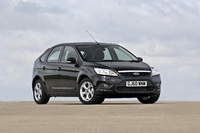 Ford's top-selling vehicle range secured 14.2 per cent of the total UK February market with Ford Focus and Ford Fiesta as top two bestsellers for the year.
Ford commercial vehicles (CVs) continue to perform strongly, as highlighted in the official sales figures from the Society of Motor Manufacturers and Traders (SMMT). The official figures released by the SMMT on 4th March show that without the benefit of the scrappage incentive scheme total UK car sales last month were down 7.7 per cent to 63,424 units.
Ford car sales of 7,542 were down from 9,915 in February 2010. Ford's retail car market share in February was 11.2 per cent, 0.7 percentage points up compared with the same period in 2010.
Ford Focus is the UK car sales leader for the year with the Ford Fiesta in 2nd place. Ford people movers were sales winners in February with Ford C-MAX range sales up from 290 to 475 compared with February 2010 and Ford Galaxy increasing sales from 271 to 387.
Ford total CV share for the month was up from 23.4 to 25.1 per cent, compared with February 2010 and total Ford CV sales were up from 2,493 to 3,371. All Ford commercials - Ford Fiesta Van, Ford Transit Connect, Ford Ranger and Ford Transit - increased sales and share, compared with February 2010.
Ford Transit sales, for example, were 2,631, up from 1,864, and its share of medium commercial sales was 28.7 per cent, up 0.4 percentage points compared with February 2010.
Nigel Sharp, Ford Britain managing director, said: "February is effectively a curtain raiser for the plate change month of March, when Ford customers will have the first chance to experience the exciting, new Ford Focus at the head of the company's best ever vehicle range. In addition to the Ford Focus there is the new Ford C-MAX range and a newly refreshed Ford large car range together with a number of new low CO2 powertrain options."