Ford Fiesta makes a million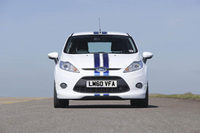 Sales of the latest-generation Ford Fiesta have reached one million in Europe. The landmark was achieved just 28 months after the stylish small car went on sale in Ford dealerships. UK drivers have snapped up almost a quarter of the new Fiesta models, with sales since launch totalling 239,742.
When it first drove out of Ford dealer showrooms in October 2008, the award-winning Ford Fiesta championed a new era in small car design, performance and functionality. Available in three- and five-door bodystyles and a range of fuel-efficient powertrains, it shot up the sales charts to become the best-selling car in the UK in January 2009, regularly challenging Ford Focus for the top UK leadership position.
The Ford Fiesta is produced in Europe in Ford's state-of-the-art assembly plants in Cologne, Germany and Valencia, Spain. It is the most successful European-made small car sold in Europe ever, with cumulative sales totalling 14 million since the car was first launched in 1976.
More recently Ford Fiesta is the first car in its segment to achieve top crash test ratings in each of the world's largest auto markets that perform safety testing - Europe, the U.S. and China.
Ford's global safety engineers combined their efforts to ensure the Fiesta would be capable of meeting the most stringent crash protection requirements in any region of the world. Leveraging Ford of Europe's small car expertise, engineers from Ford of Europe's engineering centres in Cologne, Germany and Dunton, UK, conducted an array of virtual, actual and hydraulic sled-simulated crash tests to ensure this top safety performance.
Who buys the Ford Fiesta in the UK?
Seventy four per cent of Fiesta drivers choose mid or high range models
Sales are split 30/70 between three- and five- door models.
The most popular colour is Panther black.
Seventy six per cent sold are petrol powered
Automatic transmission sales are growing and now account for almost 10 per cent of all sales
ECOnetic sales have grown from two per cent in 2009 to six per cent in 2010
Fiesta Titanium customers will also now have a Sony radio with CD player, USB and Bluetooth as standard. The Fiesta Titanium already lists many big-car features, including cruise control and automatic headlights. So far this year, 20 per cent of Fiesta customers have chosen to buy top-of-the-range Titanium models.
The most popular option, Voice Control, Bluetooth and USB, is added by around 42 per cent of Fiesta customers.