Warranty Direct backs 'oarsome' Oxford ladies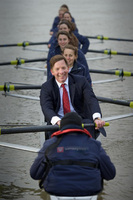 The UK's leading provider of direct automotive warranties, Reading-based Warranty Direct, has thrown its weight behind the Oxford University Women's Boat Club team.
The women's first team will go head to head against arch rivals, Cambridge University, in the famous annual Henley Boat Races on the River Thames on Sunday, March 27.
The squad, coached by former men and women's Team GBR chief coach Mike Genchi, includes several junior international rowers and also features 19-year old Natalie Redgrave, daughter of five-times Olympic gold medallist, Steve Redgrave.
Warranty Direct managing director, Duncan McClure Fisher, a keen rower himself, joined the club's first team at Wallingford this week to launch Warranty Direct's second consecutive year of support.
He said: "The Boat Races are one of the UK's most famous sporting events of the year and interest in the headlining men's race has been steadily increasing over the years. We've noticed a similar trend in the women's event and, naturally, we wanted to support one of the top teams in the country."
OUWBC chair, Rachel Quarrell, said: "The support of Duncan and Warranty Direct has been a real bonus to OUWBC, helping athletes offset the high costs of training and carry on rowing for the club for a second year, while working equally hard at their studies. Every penny donated is being put to good use. It is great to have such energetic and enthusiastic supporters, especially as our annual boat races take place in Henley, only a few miles from Warranty Direct's headquarters in Reading."
OUWBC has several fixtures lined up during March as it prepares for the Henley Boat Races. The formal Henley Boat Races Challenge and weigh-in is on Tuesday, March 22. Members of the team will sport Warranty Direct branding on their jackets, leggings and kit bags.
McCLure Fisher added: "We'll certainly all be at Henley on March 27 to cheer the girls on and enjoy lending Warranty Direct's support to one of this country's most underrated sporting spectacles."
For more information about Warranty Direct, visit warrantydirect.co.uk or to find out more about the Henley Boat Races, visit henleyboatraces.com.