Explore the deserts of Sinai Bedouin style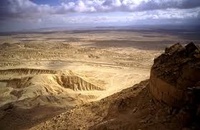 Travellers on this adventure will explore the sandstone deserts of Sinai, live with and learn about the ancient Bedouin people and experience a way of life that hasn't changed since the time of the Old Testament.
Starting at Wadi Nasb, near the coast, the route winds its way up onto the El Gibi plateau, past the ancient ruins of the Nawamis and finishing at the oasis of Ein Hodra.
Fieldskills Ltd, an international expedition company highly regarded for their adventure training, supporting fieldwork overseas, and providing rigging expertise so that TV crews can film in tricky spots, have joined up with legendary desert explorer Sam McConnell to offer this unique desert trekking expedition.
Sam has led over 100 teams in deserts across Africa and has worked extensively in Namibia as well as working in Sinai and around the world. He is perhaps best known for his solo, unsupported walk across the Dune Sea of the Namib desert in 2002.
Director, Dominic Hall, said: "This expedition is about spending time in the environment, not a marathon trek across the desert. It's a chance to learn new skills about living and working in the desert and about the desert environment itself. Alongside this will be the challenge of living out of basic campsites, trekking around 15km a day and day, but with plenty of opportunity to enjoy the peace, quiet and majestic beauty of the desert."
The seven day trip starts on the 26th November trip and costs £1250 per person; places are limited and early booking is recommended. For information and booking details visit: fieldskills.com/adventures