Ford C-MAX Titanium wins Parkers New Car Award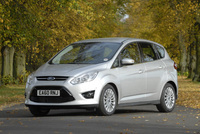 The top-of-the-range Ford C-MAX Titanium is the UK's best value MPV according to a leading car buying website.
In deciding the first awards from Parkers, the website combined list price with running costs, including depreciation, showroom and road tax, servicing and fuel consumption to name the high-series Ford C-MAX Titanium as best Multi-Purpose Vehicle (MPV).
On sale since November, the all-new Ford C-MAX and the seven-seater C-MAX Grand, have already won wide praise for their comfort, handling, hi-tech features and practicality.
Kieren Puffet, Parkers editor, said: "The Ford C-Max 1.6 TDCi Titanium won Parkers' New Car Awards 2011 MPV category because it is great to drive, comes with a quality interior and with plenty of space.
"When it comes to value the Ford C-MAX scores highly. The 1.6-litre diesel provides great performance and 61mpg combined fuel economy means trips to the fuel pump aren't frequent.
"With competitive servicing costs, low insurance premiums and keen road tax prices the Ford C-Max 1.6 TDCi Titanium is the MPV that makes the car buyer's cash go furthest."
Parkers also liked the C-MAX's Easy Fuel capless refuelling system, which is standard on most Fords and prevents accidentally filling up with the wrong fuel.
Priced from £17,195, Ford C-MAX boasts the maximum five-star safety rating from Euro NCAP and Thatcham alarm, DAB radio, Bluetooth and USB connectivity as standard.